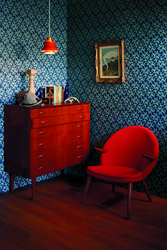 The interiors of the homes often had very spartan interiors, and these lights effectively lit large areas from a single point without overwhelming the space with visual clutter.
Portland, OR (PRWEB) September 1, 2009
In response to numerous customer inquiries, Rejuvenation continues to expand its' increasingly popular Mid-Century Modern offering with three new pendants: Astron, Sfera 8 and Sfera 16. Inspired by original designs of the 1950s and hand-assembled in the company's Portland, OR factory, all three fixtures offer the quality and integrity of the originals at an exceptional price point.
About the Astron
Fun and colorful, the Astron embodies the elements of the Scandinavian lighting design that influenced the Mid-Century Modern movement here in the U.S. Its clean spun aluminum form distributes light evenly without glare, casting a warm glow.
With choice of fixture length, eight finish options, and a no cost upgrade from incandescent to energy saving CF technology, the Astron is easily personalized to conform to the needs of the room. There are eight finishes to choose from: White Enamel, Black Enamel, Aurora Green, Neptune Blue, Flare Orange, Solar Yellow, Bronzetone, or Brushed Aluminum. The light can be made in one consistent finish or each of the Astron's three components: canopy, center cone, and exterior ring can be finished differently. Priced affordably at $115. View all custom options online at http://www.rejuvenation.com/astron.
About Sfera
The Sfera is a faithful reproduction of a versatile classic; it is the ultimate simplification of a long line of lighting design evolution based on round shapes. The simple hanging sphere illuminated so many ranch and Eichler homes throughout the 1950s and 1960s, that it is often associated with this particular architectural style. Today, similar fixtures are available in a wide range of prices, but Rejuvenation has reproduced the quality and detail of the originals at a very reasonable price.
"The originals of these fixtures were popular because they were the perfect expression of modern simplicity and geometric purity--and they were affordable," says Tim Wetzel, Rejuvenation's industrial designer. "The interiors of the homes often had very spartan interiors, and these lights effectively lit large areas from a single point without overwhelming the space with visual clutter."
A special joint is attached to the canopy, to accommodate for the sloped ceilings typical of mid-century homes, allowing the fixture to always hang straight. Sfera is available with an 8" or 16" diameter globe and can be ordered in White Enamel or Brushed Aluminum. Fixtures can be hung in multiples with added interest created by staggering length. Pricing varies from $140-$215. Visit http://www.rejuvenation.com/sfera for complete configuration options.
About Rejuvenation
Rejuvenation was founded in 1977 with a passion for old houses and buildings. Today, it is America's largest manufacturer and leading direct marketer of classic American lighting and house parts. Inspired by history, period-authenticity and customer creativity, Rejuvenation's diverse line spans the 1870s to 1960s. Collections include: Early Eclectic, Period Basics, Historic Revivals, Arts & Crafts, Colonial Revival, and Modern America. Homeowners can stay true to their home's era, and also have the flexibility to mix-and-match styles to create more personalized and eclectic environments.
The company donates ten percent of its after-tax profits to non-profit organizations dedicated to environmental conservation, historic preservation, the arts, and equal-access housing. Products are sold through the company's catalog, retail stores in Portland, Ore. and Seattle, Wash, and website http://www.rejuvenation.com.
# # #