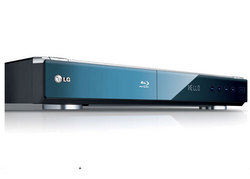 By adding the top-rated LG BD390 Blu-ray player to the lineup of VUDU-enabled products, we've made it easier than ever for customers to enjoy the VUDU experience.
Santa Clara, CA (PRWEB) September 9, 2009
VUDU, Inc.'s industry-leading on-demand high definition (HD) movie service is now available on the BD390 Network Blu-ray Disc player from LG Electronics, giving consumers a whole new way to access the largest on-demand HD library of Hollywood movies in their living rooms, the company announced today.
VUDU continues to work with top consumer electronics manufacturers to become more accessible to customers who want to rent or buy major Hollywood movies in high definition. The VUDU service, already available on flat-panel HDTVs, uniquely delivers the largest available HD movie library of instantly-viewable movies in 1080p with Dolby Digital Plus 5.1 surround sound and provides customers with VUDU's superior user experience for finding and watching movies in high definition.
"Our goal as a company is to offer the best possible HD movie service to the broadest possible audience," said Alain Rossmann, CEO of VUDU. "By adding the top-rated LG BD390 Blu-ray player to the lineup of VUDU-enabled products, we've made it easier than ever for customers to enjoy the VUDU experience."
Some of VUDU's key features include:

Instant viewing experience: unlike typical Internet and on-demand video streaming, VUDU movies start immediately, and viewers can fast forward, rewind and browse chapters without the delays or the frustration associated with buffering
Highest quality video: VUDU's unique HDX format delivers true 1080p resolution and TruFilm encoding enhancements, now available for the first time on an instant-start basis
Immersive sound: VUDU is the only on-demand service to deliver Dolby Digital Plus 5.1 surround sound at all video quality levels
No monthly fees: customers can instantly buy or rent from VUDU's extensive library of standard and high definition movie and TV titles without any monthly service charges
Largest HD library anywhere: over 2,200 titles are available in HD or HDX format
New releases: Newly-released titles from all major studios are available the same day as DVD release, typically months before they are available on subscription-based services
LG's BD390 networked Blu-ray player transforms and personalizes the home theater experience by offering a stellar array of entertainment options. In addition to its broadband capabilities, the BD390 offers exceptional "Full HD" 1080p video performance and exceptional image quality from standard DVDs with 1080p up-scaling via HDMI output. The BD390 is also equipped for easy connection to the home network and has one gigabyte (GB) of built-in memory for BD Live functionality.
Model BD390 with LG's "NetCast Entertainment Access" feature is available now at nationwide retailers at a manufacturer's suggested retail price of $399. VUDU connectivity will be available at the end of the month via a free upgrade.
About VUDU
VUDU is a leading provider of digital technologies and services that deliver Internet entertainment to consumers' HDTVs. The VUDU entertainment service supports native instant start HD and, for the first time, instant-start HDX, which, with 1080p resolution at 24 frames per second, the cinematic gold standard, is the highest quality on demand format available anywhere. Through relationships with every major U.S. movie studio and more than 40 independent studios and distributors, VUDU offers a vast array of on-demand choices at the highest quality. The VUDU collection is constantly updated, and newly released movies from major studios are available on the same day as the DVD is released. Consumers can finally watch great movies without the hassles associated with traditional services: no driving, no mailing, and no monthly fee. For more information, visit http://www.vudu.com/.
Important Links:
http://www.vudu.com
http://www.lge.com/us/
http://www.blog.vudu.com
###