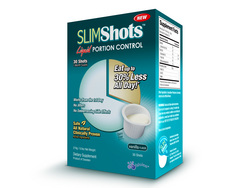 Recent studies have made it abundantly clear: the key to weight loss is eating less and reducing calories. SlimShots gives you that shot.
Wayne, NJ (PRWEB) September 11, 2009
It is not news that the majority of American adults are overweight. How we got here is no real surprise either; super-sized portions, snacking between meals and a propensity for soda pop or alcoholic beverages add calories gradually, year after year. The once livable 5-pounds overweight becomes 10, 10 become 20, and so on until we wake up one day with the startling realization that we are bigger than our car seat. But what if there was a dietary supplement that could help reduce your appetite so you naturally eat less? What if it helped quell the hunger pangs prompting your mid-morning, mid-afternoon, or after-dinner snacks so it was easier to stick with your diet program. Today that supplement exists, announced Ideavillage Products Corporation, the distributor of the revolutionary dietary supplement SlimShotsTM, and it is taking the U.S. by storm. Its secret - a uniquely formulated all natural active ingredient called FabulessTM.
Active Ingredient 10 Years in Development
Behind SlimShots' breakthrough active ingredient is Sweden-based LTP Lipid Technologies Provider AB and its $12 billion lifestyle ingredient parent company, DSM Nutritional Products. Predicting the weight crisis more than a decade ago, company researchers began to explore the use of fats as a control for food intake. Aware that the "ileal brake" mechanism could play a key role in creating a feeling of fullness and satisfaction in humans, company researchers determined that if they could get a small amount of fat delivered to the lower intestine undigested, it would trigger the "ileal brake", the natural appetite control mechanism; resulting in the feeling of being full from the end of one meal to the next. The challenge was finding the right type, amount, and formulation of fats to do the trick.
Ten years and countless formulations later, they discovered that coating one fat, palm oil, with another lipid, oat oil, enabled the palm oil to pass through the stomach on to the small intestine where it trips the brake. The result: many people experience a comfortably satisfied feeling and, more important, the quelling of hunger pangs between meals. The all natural emulsion's success exceeded the researcher's wildest dreams. In multiple double-blind clinical studies, an array of appetite suppressant effects of Fabuless™ was found. In short term studies, users ate up to 30% less food 4 hours following consumption and for up to 8 hours. In some cases, the appetite suppressing effect lasted 36 hours following consumption(1).
Today, the patented emulsion boasts 4 trials and papers published in the International Journal of Obesity and 2 in the European Journal of Clinical Nutrition. In addition, part one of the active's 2-part mechanism of action (MOA) study was recently published in the Scandinavian Journal of Gastroenterology and several additional studies are expected to be published in the coming year.
Using the Body's Natural Processes to Eat Less
SlimShots simplicity is remarkable. Comprised of the patented water-based emulsion, Fabuless, it is sweetened with sucralose and artificially flavored with vanilla or chocolate. "In short, SlimShots is as wholesome as the food on your table," said Ron Boger, executive vice president of SlimShots.
Containing no stimulants and no fat blockers, Boger points out that SlimShots is perhaps the only weight management product on the market that works with the body's natural processes. He explained, "A fat blocker removes digested fats that the body would, under natural circumstances, store and use. That removal tends to produce an oily discharge in users. SlimShots, by comparison, uses the body's natural process for suppressing the appetite and eating up to 30% less food. By delivering only 2 grams of this smart fat formulation to the digestive system, the body's natural mechanism for feeling full is triggered, and there are no embarrassing side effects."
"Altering your metabolism through the use of stimulants causes the body to work harder than it naturally would. The result is often increased blood pressure, jitters, or tremors. Because SlimShots does not contain any stimulants, users don't experience those types of side effects," Boger stated, adding, "Simply put, SlimShots does not alter the body's natural process to produce a result, it works with it."
For today's weight challenged adult, Boger is proud of the fact that product safety is as important to SlimShots as its efficacy. Boger noted, "Recent studies have made it abundantly clear: the key to weight loss is eating less and reducing calories. SlimShots gives you that shot."
For more information, visit http://www.slimshots.com
(1) Clinical studies have shown the average caloric intake was reduced 12.5%-30%. For more information, see http://www.slimshots.com.
# # #