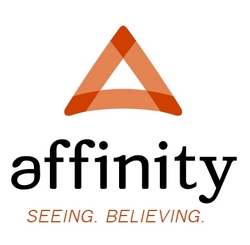 We are pleased to be able to offer our clients a high quality high definition video suite and service solution in Canada. This relationship with Telemerge expands our number of high definition IP enabled rooms in North America, and gives our Canadian customers a more enhanced local solution
Denver, CO and Toronto, Canada (PRWEB) September 11, 2009
Affinity VideoNet, the global leader in public videoconferencing suites announced today a new partnership with Telemerge Canada to offer clients a High Definition high quality public room solution in North America.
Under terms of the agreement, Telemerge has joined the Affinity VideoNet affiliate network and will offer its clients access to Affinity VideoNet rooms in 60 countries around the globe. Telemerge rooms throughout Canada are now available to Affinity's clients, as well as Telemerge Managed services throughout Canada.
"We are pleased to be able to offer our clients a high quality high definition video suite and service solution in Canada. This relationship with Telemerge expands our number of high definition IP enabled rooms in North America, and gives our Canadian customers a more enhanced local solution," said Peter Holst, Affinity VideoNet CEO.
Paul Doo, Telemerge CEO states, "Our clients expect the highest quality video conferencing suites and services from Telemerge, and this new relationship with Affinity extends our reach of high definition video suites, globally, significantly. The response from Telemerge customers has been outstanding to date. We believe that as customers find videoconferencing a cost effective alternative to business travel, this segment of our business will increase."
About Affinity VideoNet:
Headquartered in Denver, CO, Affinity VideoNet has been the leader in remote meeting services and video conference suites for more than 18 years. With thousands of video conference suites in 60 countries around the world, Affinity VideoNet offers a cost effective meeting alternative to travel. If you are new to video conferencing or it's a service you've been using for years, Affinity can show you just how easy these remote meetings can be because of our comprehensive site certification process, reliable suites, personal consultation and top-notch customer service.
For more information about Affinity VideoNet, visit http://www.affinityvideo.net
About Telemerge:
Telemerge, Inc. is a privately held global QoS IP-based managed video communications network service provider, built on a robust MPLS infrastructure. Telemerge delivers a complete suite of managed video services supporting SD/HD/Telepresence, Level 1 and Level 2 proactive client support, help desk services, network management reports, environmental impact reports, IP/ISDN bridging, 6000+ global room rental Suites, webcasting, audio/webconferencing and centralized billing.
Telemerge "virtually empowers" clients to work in a collaborative environment. Please visit http://www.telemerge.ca for more information, or view our corporate interactive brochure http://www.telemerge.ca/pdf/telemerge_ibrochure.pdf
Media Contacts:
Telemerge Canada
Paul Doo, CEO
416-987-4156 ext 6112
pdoo at telemerge.ca
Affinity VideoNet
Emily Magrish, VP Marketing
303-640-3810 ext. 105
emagrish at affinityvideo.net
###