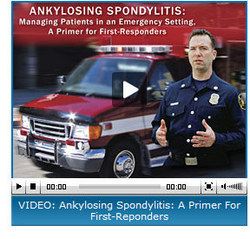 The video training program provides the critical information that first responders need to care for the spondylitis patient safely and effectively, without causing further harm
Sherman Oaks, CA (PRWEB) September 18, 2009
Sherman Oaks, CA September 17, 2009 --
For people affected by ankylosing spondylitis and its related diseases, the most frightening part of an emergency situation can occur after help arrives.
"Emergency Medical Providers called to care for an individual with AS must remember that their patient's spine is inflexible and cannot be moved" states Dr. Gary Vilke, Professor of Clinical Medicine, Vice Chief of Staff, and the Director of Clinical Research for Emergency Medicine at the University of California at San Diego Medical Center. "Numerous emergency medical techniques must be modified to accommodate patients with AS. These include airway management techniques, splinting techniques and transport considerations."
Working with an Expert Faculty of Advisors and in collaboration with the National Association of Emergency Medical Technicians (NAEMT), the Spondylitis Association of America (SAA) has produced the first-ever training video to instruct paramedics, emergency medical technicians and fire department personnel in the special needs of spondylitis patients in emergency situations.
The video features patient/first-responder enactments for emergency response personnel. "The video training program provides the critical information that first responders need to care for the spondylitis patient safely and effectively, without causing further harm," says Laurie Savage, Executive Director of the Spondylitis Association.
The Spondylitis Association is working closely with the National Association of Emergency Medical Technicians (NAEMT) to distribute this training tool to their membership of first responders across the nation, so that when help arrives, it doesn't do more harm than good.
SAA has also partnered with the National Safety Council, American Red Cross, American Heart Association, American Safety and Health Institute, National Highway Traffic Safety Administration, Department of Transportation, American College of Osteopathic Emergency Physicians, National Volunteer Fire Council and the Commission on Accreditation of Medical Transport Systems to market this training module to their constituents.
Ankylosing Spondylitis: Managing Patients in an Emergency Setting Primer provides the education and training needed to ensure that all emergency first responders, including emergency medical technicians, paramedics and fire and police safety personnel have an opportunity to learn the proper and safe techniques in the care and handling of individuals with spondylitis.
Laurie Savage notes that "this training platform is not intended to be diagnostic, but rather to prepare an emergency medical technician to prevent further injury once a person has self-reported, in some way, that he or she has AS."
The video is housed on SAA's website, http://www.spondylitis.org and is accredited by the Continuing Education Coordinating Board for Emergency Medical Services (CECBEMS) to qualify for Continuing Education credits for first responders who view the programs and score a satisfactory grade on the subsequent test.
Randy Chism, Firefighter, Emergency Medical Technician and AS patient states, "Thanks to the Spondylitis Association of America's commitment to educating emergency first responders, for the first time, over 800,000 EMTs nationwide will learn about the disease and the proper handling of AS patients in an emergency situation."
About Ankylosing Spondylitis
Spondylitis is the term used to refer to a group of chronic, inflammatory diseases that generally strike young people between the ages of 17 and 35. Typically, spondylitis causes pain and stiffness and, in the most severe cases, can result in a total fusion of the spine and/or neck, leading to disability. Although spondylitis primarily affects the spine, it can also affect the joints of the shoulders, hips, knees and feet, as well as cause inflammation of the eye. More rarely, because AS is a systemic (whole body) condition, other organs such as the heart and lungs can also become involved.
About the Spondylitis Association of America
The Spondylitis Association of America (SAA) is the only nonprofit organization in the US dedicating all of its resources to improving the lives of people with ankylosing spondylitis and related diseases. Established in 1983, SAA is committed to increasing awareness of spondylitis, providing information and support to patients and their families, and ultimately, working to uncover a cure for the disease.
SAA produces the most comprehensive library of spondylitis resources available in the US -- including books, DVDs, CDs, brochures and other publications; an 800-page interactive website; a quarterly, advertising-free news magazine, and a network of nationwide Educational Support Groups to educate and support people living with this chronic illness.
At the forefront of every major milestone achieved in spondylitis education, research and treatment in the last 25 years, you will find the Spondylitis Association of America.
This program was made possible through the generous support of: The Higgins Family Charitable Foundation; The Jean and E. Floyd Kvamme Foundation; The Kautz Family Foundation; and members of the SAA.
###