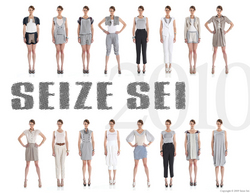 Times are tough right now, so consumers are spending their money wisely by purchasing pieces rather than collections. Women are looking for classic pieces that will last longer than trendy items that go out of style after a season
New York, NY (PRWEB) September 17, 2009
Seize Sei presents its contemporary 2010 collection of conceptual separates with a multiple-piece approach breaking into the US market. The collection - sheath dresses, jackets and blazers, tailored trousers and harem pants, vests, cotton jersey tees and tanks, shorts and assorted fashion tops in blended fabric combinations of silk, cotton, linen and polyester fabric - contains mix-and-match investment pieces for today's budget-conscious consumers looking to update their looks.
Each piece possesses great fabric quality, classic yet unique design elements, and innovative detail combinations. Her collection strikes a balance not easily attained: they are luxurious yet sporty, sharp and modern without sacrificing beauty and design, quirky in detailing yet enduringly wearable.
The brand, Seize Sei, understands the economic situation and its target market behaviors. "Times are tough right now, so consumers are spending their money wisely by purchasing pieces rather than collections. Women are looking for classic pieces that will last longer than trendy items that go out of style after a season", said Sung Ah Cho, the designer of the brand.
The designer creates clothing with great attention to detail in fit, seams, drapery, pleating, and color-contrasting to update classic pieces into modern, contemporary sportswear. Ideal for casual day to evening looks and some pieces being appropriate for the office, this line offers versatility, comfort and unlimited options for everyday wear. While the color palette contains the basic whites, creams, blacks and grays, color-contrasting elements with additional monochromatic hues of muted neutrals, warm blush undertones, faded blues and khakis provide buyers with additional versatile fashion choices for better profit margins.
"The designs are different but amazingly wearable," says Larissa Van Duser, fashion consultant. "Each piece has its own quiet tranquility that bridges the gap between femininity and everyday casual wear. The detailing with structural pleats and refined draping produces creative volumes and shapes that are balanced with timeless fabrics and neutral hues."
We welcome buyers as the collection is ready in New York, for sample requests and for more information please contact Mira Zivkovich at MZI Global at 917.653.5034 or 212.366.5409
About Small Business Corporation of Korea (SBC)
Since its foundation as a non-profit government agency in 1979, SBC has been committed to fostering and promoting Korean small and medium sized businesses. SBC understands that excellence comes in different sizes and offers assistance to Korean businesses in entering the U.S. market. With a regional headquarters office located in New Jersey, it provides a variety of support services such as training, marketing, and financial assistance in order to increase the global competitiveness of Korean businesses. For more information, please visit Small Business Corporation.
About Seize Sei
The head designer, Ms. Sung Ah Cho graduated from Polimoda International Institute in Italy in 2002. Working for various design teams such as the Italian brand, BERETTA, French brand, Raid Gauloises and launching the Jeep Europe Fashion line (Chrysler) over the years has prepared her to work as a design consultant for Italian brand BELFE and established DI ("design of idea") in Korea by 2007. Ultimately launching her own brand, Seize Sei, Ms. Cho is seeking to expand the name of her brand in the US. For more information, please visit Seize Sei, Via Zoe.
About MZI Global Marketing
MZI Global Marketing is an award-winning, full-service integrated marketing and advertising firm that creates and executes effective high-tech solutions for their clients across a wide spectrum of industries. Under the leadership of president and CEO Mira Zivkovich, recipient of the 2007 Ellis Island Medal of Honor, MZI Global Marketing puts its international, multicultural marketing expertise, a mastery of interactive marketing strategies, and custom publishing prowess to work for clients that aim to build their businesses on a global scale. MZI Global Marketing is committed to guiding its clients from initial strategy to well executed solutions, helping them surmount any challenge and achieving their every business goal. For more information, please visit MZI Global.
###