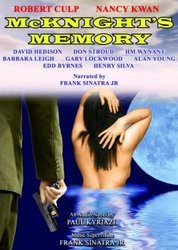 It's like sleeping with a beautiful stranger
Hollywood, CA (PRWEB) September 20, 2009
The just released full cast audio-novel 'McKnight's Memory', with film quality effects and music, has 11 name actors of the '60s in the cast:
Frank Sinatra Jr. - Actor and singer still performing around the world.
Robert Culp - I SPY - The Outer Limits - Bob, Ted, Carol, & Alice
Nancy Kwan - The World of Suzie Wong - Flower Drum Song - Dragon The Bruce Lee Story
David Hedison - The Fly - Voyage to the Bottom of the Sea - The Lost World
Don Stroud - The Buddy Holly Story - Cogan's Bluff - Joe Kid (both with Clint Eastwood)
HM Wynant - Twilight Zone's 'The Howling Man' - Run Silent Run Deep (with Clark Cable)
Henry Silva - Oceans 11 - The Manchurian Candidate - Sergeants 3 (all with Frank Sinatra)
Edd Byrnes - Grease - 77 Sunset Strip - Darby's Rangers
Barbara Leigh - Junior Bonner (with Steve McQueen) - Pretty Maids All in a Row (with Rock Hudson)
Gary Lockwood - 2001 a Space Odyssey - It Happened at the Worlds Fair - Wild in the Country (both with Elvis Presley)
Alan Young - The Time Machine - Tom Thumb - Mr. Ed
The story concerns CIA chief James McKnight, who wakes up in Columbia in the middle of a shoot out with no memory. He is returned to Washington DC where he meets the beautiful Carla, the women he lives with. Yet, he doesn't remember her. "It's like sleeping with a beautiful stranger," he tells her.
Carla captivates McKnight to the extent of trusting her when he shouldn't. Carla seems drawn to McKnight's power and position in the CIA, giving her a lifestyle that she couldn't have on her own. But is that all she's there for?
Is she really his lover? The one he chose for himself? Or did someone else choose her for him to keep him erotically sedated until the kill? And who is that other woman that he has nightmares about? And those bandits that he killed in Columbia. Did they really come back to life? Or are they just a part of his amnesic dreams?
When McKnight thinks that both the CIA and the Mafia are trying to kill him, he has two choices, fight back or run with Carla. But can he trust her? Is she on his side or helping his enemies destroy him? Perhaps his strange dreams hold the answers to his bizarre situation and the truth about Carla. McKnight continues on his mysterious adventure, heading towards a startling revelation.
The audio-novel was written by Paul Kyriazi director of six feature films including 'Omega Cop'.
Listen to an exciting free sample performed by Sinatra, Culp, & Kwan at:
http://lodingo.com/_catalog_49120/Ronin_Audio_Book_Downloads (McKnight's Memory Download Site)
###