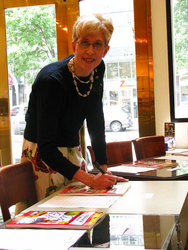 Washington, DC (Vocus) September 22, 2009
To kick off the new school year, Fahrney's Pens is offering its second series of Cursive Handwriting Workshops for children ages 8 to 12 years, (3rd – 6th grade). The first series was held during this year's summer break and was very well received by children and parents alike.
Penmanship was once an important part of every student's early education, but the world of personal computers, e-mail and texting has rendered the handwritten note an obsolete form of communication – a skill that many of today's students only learn to appreciate from their grandparents. Schools are spending less time than ever teaching the art of cursive handwriting as more effort is devoted to typing in the early grades.
Cursive – the long, flowing style of penmanship in which the letters connect – is taught to youngsters letter-by-letter in daily drills, usually around the third grade. However, other subjects often take precedence over penmanship, so many students can't read or write in cursive. Parents are now beginning to realize that their children are graduating with atrocious or illegible handwriting. According to the College Board, when the SAT added a handwritten essay to its 2006 exam, only 15 percent of the almost 1.5 million students wrote their answers in cursive.
Fahrney's decided to offer parents an alternative means for their children to practice and learn the art of cursive writing. Our two-hour workshops are being held on the following Saturdays from 2:00–4:00pm in Fahrney's downtown store: Sept 26th or Oct 3rd. Each workshop is limited to six students and costs $60, which includes a workbook and a fountain pen that they can take home.
Studies show that learning cursive helps children's brain synapses to develop because it requires fluid movement, eye-hand coordination and fine motor skill development. Cursive writing is considered an art form for students to display their inner feelings and thoughts and helps to reinforce the importance of clear communication.
Fahrney's Pens, celebrating their 80th Anniversary this year, has served as Washington's premier source for fine writing instruments, accessories and pen expertise since 1929. Fahrney's is as much a part of the city's legacy as the White House and Lincoln Memorial and has taken its place as the pen retailer of choice for many of the city's most prominent businessmen, politicians, and diplomats.
Here is the link to the workshop invitation on Fahrney's website:
http://www.fahrneyspens.com/content--id-12
Store location: 1317 F Street, NW
Washington, DC (just 2 blocks from the White House) 202-628-9525
Catalog Customer Service: 1-800-624-PENS (7367)
###