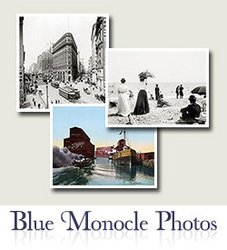 Old photos are a great way to explore the past--see what your town looked like more than a hundred years ago, or use them as an aid in genealogical research and find the important places in your family's history
Denver, CO (PRWEB) September 22, 2009
Today Blue Monocle announced that it would complement its collection of antique map prints with a new selection of old photos, making available fine art prints in sizes from 8''x10'' up to 24''x30''. "Old photos are a great way to explore the past--see what your town looked like more than a hundred years ago, or use them as an aid in genealogical research and find the important places in your family's history," explains David Alexander, owner of Blue Monocle. ''If you're looking for a new and distinctive way to decorate a home or office, old photos can add just the right touch.''
The new collection comprises photographs taken in the United States roughly from 1860 to 1930 and features a variety of subjects including views of New York, Washington D.C., Chicago, San Francisco, and other cities; majestic natural settings such as Yellowstone National Park and the Rocky Mountains; sporting events like baseball and auto racing; and glimpses of everyday life, from crowded city street scenes to moments of leisure at beaches and theaters to life in Native American pueblos in the southwest.
Many images in Blue Monocle's new collection are color photographs originally produced using the Photochrom printing process developed in the late nineteenth century. Photochrom prints were made by a special color lithography process that allowed the transfer of large format black and white negatives to lithographic printing stones. The result was a color photograph that retained superb clarity and detail with rich, natural colors.
Blue Monocle is committed to producing high quality prints of historical materials made to the highest archival standards. All prints are made on professional fine art papers that will last for generations. In addition to prints of historical photographs, Blue Monocle also specializes in fine reproductions of antique maps, spanning the period from the fifteenth century through the early twentieth century and covering all regions of the world, from cities and towns to countries and continents, to world maps.
For more information about Blue Monocle, or to view the collection of historical photographs and antique maps, visit http://www.BlueMonocle.com.
###