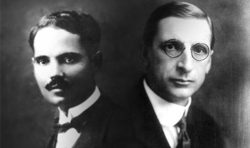 and Ireland's Easter rebellion in 1916 profoundly affected the Harvard student's perspective on Puerto Rico forever.
New York, NY (PRWEB) September 23, 2009
It was in Harvard University while Pedro Albizu Campos pursued his law degree that he was mentored by Father John Ryan and inspired by theologian Jaime Balmes, both passionately at odds with imperialism. "The history of Ireland's indigenous oppressed people," Rivera Serrano explained, "and Ireland's Easter rebellion in 1916 profoundly affected the Harvard student's perspective on Puerto Rico forever."
As the founder of the Knights of Columbus in Harvard and a member of St. Paul's Harvard Catholic Club Albizu Campos was regularly in the company of Boston's more renowned Irish men at the time, among them: James Byrne, the only Catholic Fellow of Harvard College, and William Henry Cardinal O'Connell who spoke at New York's Madison Square Garden regarding the issue of Irish independence in December of 1918.
It was also in Boston that Albizu Campos met the president of the Irish Republic Eamon de Valera in 1919 during the Irish leader's first tour of the United States. Noted for being a keen judge of character De Valera persuaded Albizu Campos to assume the duties of establishing an activist student organization dedicated to the unconditional recognition of the Irish Republic. There were nearly 150 college chapters across the American continent. The first was at Harvard.
Albizu Campos was later consulted to draft what would ultimately become the constitution of the Irish Free State while he was leading his own country's battle against U.S. colonialism, a battle "entirely modeled on the Irish struggle against Britain," Rivera Serrano said.
The narrative unfolds into a who's who of early 20th century movers and shakers in America mostly all of Irish descent, or Irish immigrants, who worked to free Albizu Campos from his imprisonment for sedition. "It's an inspiring account of solidarity between the people of Puerto Rico and Ireland," the writer added.
Rivera Serrano's research for the book took her to Ireland, Puerto Rico and Boston. Publication is scheduled for April 2010. Discounted prepublication orders can be logged online at Ausubo Press.
Ausubo Press is an independent multicultural publishing company. It is one of several publishers in the United States producing books in more than one language. Luso-Brazilian and Native American literature, as well as works in Irish, are included in its publishing program.
For additional information please contact:
William Cadiz
+1.917.573.6858
###