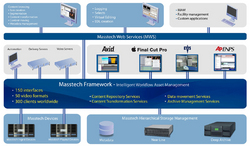 With the continuing evolution of our embedded workflow processing, we are seeing very exciting new opportunities to engage in projects that require dynamic and sophisticated workflows
Toronto, ON, Canada (PRWEB) September 23, 2009
Masstech announced today that in conjunction with National TeleConsultants (NTC) of Glendale, California, it has completed the commissioning of a large scale file-based workflow solution for the Fox Network Center - Houston (FNC-H) located in The Woodlands, Texas.
The Masstech solution, based on the company's flagship MassStore product, provides the core file-based infrastructure that enables file-based content movement between diverse storage devices including Grass Valley Group (GVG) K2 video servers, Isilon nearline disk and an IBM LTO4 data tape library.
A key operational requirement was satisfied by MassStore's ability to scale to meet the file transfer demands generated by the aggregated content requests from fifty-four channels of Harris ADC automation playlists and related ingest activity. Also critical to the success of the implementation is MassStore's native workflow engine that delivers automatic detection, movement, storage, transcoding and related content processing, independent of the Harris ADC system.
"With the continuing evolution of our embedded workflow processing, we are seeing very exciting new opportunities to engage in projects that require dynamic and sophisticated workflows," said Joe French, President and CEO of Masstech Group. "The FNC-H project is a good example of that. The timeline was very aggressive, and the flexible nature of MassStore and its workflows allowed us to support a massive transcoding process that was necessary to migrate a huge amount of existing content to the K2 video servers, and then to reconfigure for the final implementation."
French added, "The NTC and FNC-H teams were great to work with. The overall collaborative effort really helped us to be able to design and deploy such a large system in an extremely short time. We are very gratified that they turned to Masstech to be a part of this effort."
MassStore's signature embedded workflow capabilities are bolstered by more than 150 native broadcast device interfaces and 50 transcode paths, and validated in over 300 installations worldwide.
MassStore, along with the entire complement of Masstech Group's solutions, can be seen at Broadcast India, October 29-31.
About the Fox Network Center - Houston:
FNC-H is a regional cable sports network that covers sports and is also the cable home for the Houston Rockets (NBA), Houston Aeros (AHL), Houston Astros (MLB), Houston Dynamo (MLS) plus Houston Cougars (NCAA) and Rice Owls (NCAA) coverage of the Conference USA athletic conference. In addition to producing Rockets, Astros, and Comets games for co-owned KTXH, FNC-H also features local Houston-area high school sports.
About National TeleConsultants (NTC):
Since 1981 NTC has provided mission critical services - strategic, technical and operational advice, design, engineering, integration and deployment - to the global media and entertainment industry. These services cover hardware and software systems and the physical facilities in which they are built.
About Masstech Group:
Masstech Group is the global leader in providing a comprehensive solution that bridges advanced file-based workflows of broadcast transmission and production, media format transformation and flexible storage integration. Driven by innovation and dedicated to customer success, today Masstech helps more than 300 clients worldwide optimize production and distribution processes, capitalize on business opportunities and grow cost effectively without limits. Masstech Group. Experience Matters.
For more information visit http://www.masstech.com
Masstech Press Contact:
Karolin Belashkin
Marketing Communications Manager
+1.905.707.2982
Karolin.Belashkin (at) masstech.com
###