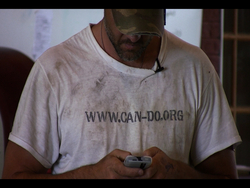 Los Angeles, CA (PRWEB) September 23, 2009
Natural disasters are on the rise globally and only projected to worsen in coming years. With extensive frontline experience in some of the worst natural disasters in the world, award-winning relief agency, CAN-DO (Compassion into Action Network, Direct Outcome Organization, http://www.can-do.org) is proud to announce the expanded launch of VirtualVolunteer.tv that will broadcast live on September 25th and 26th at 12pm CST. http://www.VirtualVolunteer.tv is a revolutionary, interactive technology that connects donors, viewers and participants with those on the frontlines, in real time.
While relief efforts are slowed by repetitive news broadcasts and a lack of up to date information, VirtualVolunteer.tv's mobile technology provides immediate information and state of the art, real-time broadcasts that take participants directly to the frontlines. Using the most advanced internet broadcasting technologies, VirtualVolunteer.tv is the first online, interactive real-time video website that allows donors, family members, government officials, companies, leaders, teachers, and organizations anywhere in the world to directly participate in critical relief efforts, vastly improving efficiency, accountability, and transparency in efforts that are often laden with bureaucracy and red tape.
Applauded by disaster relief agencies, government officials, and insurance groups as an effective, interactive tool for disaster response, VirtualVolunteer.tv transforms frustration and inefficiency into empowered and informed decisions, reducing waste and increasing impact. This revolutionary technology is the catalyst of the movement towards accountability, transparency, and results.
"I've led relief efforts in some of the worst disasters this world has known and one of the most devastating things is the lack of real time news, updates, and clear assessments that enable real relief to occur, without the red tape and without the hidden corners that only amplify the suffering," explains Eric Klein, Founder of CAN-DO. "The economic, social, political, and personal impact of disasters ranging from cyclones to earthquakes, fires to hurricanes, floods to tornadoes, is unfathomable. VirtualVolunteer.tv will transform the process by increasing the speed of accurate and current information to quicken the response time, getting help directly to those that need it most."
With international accolades from US Senators to heads of disaster relief organizations, VirtualVolunteer.tv is already proving its efficacy in numerous successful pilot projects. From September 25th to 26th, VirtualVolunteer.tv will broadcast live throughout the Grand Opening of the 60' x 30' Community Greenhouse, the Community Thrift Store, and Community Gardens as the completion of "Phase Two" of CAN-DO's ongoing revitalization project in nation's poorest county on the Crow Creek Indian Reservation in South Dakota, demonstrating to donors, media, and leaders worldwide the impact of their involvement in creating this vital initiative. Participants will be actively involved in the process, creating a new dimension to humanitarian relief and new standards in the field. Completion of Project Crow Creek "Phase Two" click here to watch video.
Utilizing their proven approach to provide lasting solutions with full accountability, efficiency and results, CAN-DO is addressing the critical needs in the relief and humanitarian aid sector with the launch of VirtualVolunteer.tv. The site further maximizes the impact of aligned organizations in the humanitarian and philanthropic sectors through enabling their members to benefit from VirtualVolunteer.tv's proprietary network of channels, resources, sponsorship opportunities, and community activation tools; facilitating connections, fostering collaboration, and maximizing results.
With additional applications ranging from informative educational programs, the ability to function as the sole assessment tool for insurance agencies and relief organizations in disaster situations, creating powerful opportunities for innovative Corporate Social Responsibility (CSR) Programs and connecting families with survivors, VirtualVolunteer.tv directly fulfills CAN-DO's mission to change the face of philanthropy and demonstrate transparent accountability.
About CAN-DO:
Founded by Eric Klein, CAN-DO has set a new standard for humanitarian aid and is changing the face of philanthropy. CAN-DO's successful missions to bring immediate and direct relief to areas in need have captured the attention of renowned philanthropists including Oprah Winfrey and former president Bill Clinton. The organization was recently awarded the Global Compassion Award at the United Nations for its global impact, unparalleled transparency and accountability.
Video footage, photographs and the web site offer documentation of the organization's efforts at every phase. For further information, please visit http://www.can-do.org. To schedule media interviews or to get involved, please contact Alissa Sears of Christie Communications at 805-636-9929 or by email at alissa@christiecomm.com.
###