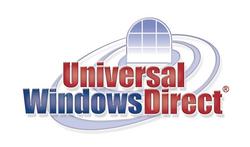 On behalf of the editors of Qualified Remodeler magazine, we extend our sincerest congratulations on being listed among the QR Top 500 in 2009. Your firm will be ranked 73 on the list. You and your team should be proud of this accomplishment
Minneapolis, MN (PRWEB) September 25, 2009
Universal Windows Direct (http://www.universalwindowsdirect.com) has created a nationwide presence providing a complete line of energy efficient home improvement products, including replacement windows, siding systems and entry doors.
"On behalf of the editors of Qualified Remodeler magazine, we extend our sincerest congratulations on being listed among the QR Top 500 in 2009. Your firm will be ranked 73 on the list. You and your team should be proud of this accomplishment," said Patrick L. O'Toole, Editor & Publisher, Qualified Remodeler.
"It is such an honor to be included in this prestigious national ranking. Our philosophy has always been to provide homeowners with the highest quality products in the market at a factory direct price. This is tremendous recognition," said Bill Barr, President and CEO, Universal Windows Direct.
The Qualified Remodeler Top 500 list is one of the longest running ongoing recognition programs in the remodeling industry. Companies named are listed in the September issue of Qualified Remodeler Magazine, one of the most widely read trade publications in the building and construction industry.
Founded in 1975, Qualified Remodeler was the first magazine dedicated to serve the residential and light commercial remodeling industry. Cygnus Business Media publishes the magazine, which serves more than 81,000 remodeling firms nationwide.
###