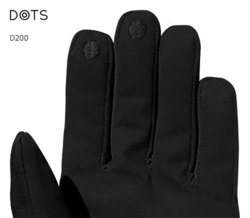 New York, NY (PRWEB) September 27, 2009
Dots Gloves LLC (http://www.dotsgloves.com) has released three new iPhone glove models, all enabling winter usage of Apple's iPhone. Their flagship model, the D200, sporting a nylon shell, fleece lining and microfiber grip palm, incorporates three "dots" into the glove fingertips, connecting users with their iPhones even in the harshest temperatures. The D105 is a lightweight knit that allows touching, tapping, scrolling and even pinching iPhone functions. The D110 provides these same features in addition to extra warmth and speckled knit styling. All models are available in black, navy, grey, brown, and white.
Dots Gloves LLC was launched in February 2008 and has since garnered acclaim from national press outlets such as Playboy, Wired, Maxim, The New York Post, Time Out New York as well as Time Out Chicago, among many others.
Contact:
CEO Christopher Harrison I chris(at)dotsgloves(dot)com
CEO Larry Lairson I larry(at)dotsgloves(dot)com
# # #