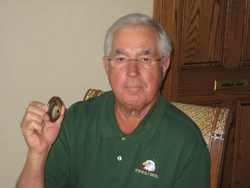 "In today's manufacturing environment, the ability to keep costs down, yet remain competitive is the name of the game. The maintenance, repair and operations of equipment are vital areas that can be controlled with our non-contacting Bearing Isolator tech
Rock Island, IL (PRWEB) September 30, 2009
Inpro/Seal Company, the world's largest producer of industrial bearing isolators, has published literature that provides a detailed overview of its Bearing Isolators and Bearing Isolator-based shaft seals.
Unique Reference
Written in easy-to-understand language, this literature is a valuable source of information and a useful tool for anyone involved in motor maintenance, repair and operations (MRO), machine tool spindles, turbines, fans, gear boxes, paper machine rolls, pumps, conveyors, shafts, VFDs or other types of rotating equipment used in industrial or process applications. Important bearing protection information includes:

What, Precisely, a Bearing Isolator Is And How They Work
Life Cycles of Bearing isolators, Reliability Factors
Eliminating the Root Causes of Rotating Equipment Failure
Inner Workings With Illustrations
Maintaining Proper Lubrication
Types of Equipment That Can Be Used With Bearing Isolators
How Bearing Isolators Reduce Maintenance Costs
The Latest In Non-Contacting Technology
Getting Equipment To Run Longer and Increase MTBF (Meantime Between Failure)
Controlling MRO Costs
The Importance of Vapor Blocking Capabilities
Why A Bearing Isolator Outlasts the Equipment It Protects
How To Order Bearing Isolators
100% Satisfaction With an Industry Leading Warranty
The Only Shaft Seals That Last the Lifetime of Rotating Equipment
Permanent Bearing Protection
That Was Then
In his quest to find a permanent means of protecting bearings while enhancing and extending the service life of rotating equipment, David C. Orlowski developed the worlds first Bearing Isolator. Patented in 1977 (#4,022,479), the year he founded Inpro/Seal, the Bearing Isolator (a term coined by Orlowski), for the first time, gave process plants the choice of permanent bearing protection while eliminating the need for continual maintenance.
The Inpro/Seal Bearing Isolator is a non-contacting labyrinth seal, comprised of a unitized rotor and stator that do not contact one another; it does not consume energy and never wears out, and it can be used over and over for many years. Protected bearings have proven to run 150,000 hours (17 years) or more, eliminating the need for costly maintenance and repair.
This Is Now
With more than 4,000,000 units operating throughout the world today, the Inpro/Seal Bearing Isolator has been enthusiastically accepted by users and is a standard component in process pumps and electric motors. The high name recognition that Inpro/Seal has earned makes it an authentic brand that customers identify as unique and innovative. Operating out of the world's largest facility devoted to bearing isolation technology, under stringent ISO 9001 conditions, Inpro/Seal manufactures an average of 50,000 units per month and is poised to increase production to 100,000 units per month.
A Product For The Times
According to Orlowski, "In today's manufacturing environment, the ability to keep costs down, yet remain competitive is the name of the game. The maintenance, repair and operations of equipment used on the plant floor are vital areas that can be controlled with the use of our non-contacting Bearing Isolator technology.
"Realizing the product falls into a "Best Maintenance Practice" category," Orlowski continues, "most of the Fortune 500 companies in the process industries and more than half the world's industrial companies now use authentic Inpro/Seal products in critical maintenance roles, eliminating the need for constant "break-fix" maintenance. The key to our success continues to be world class products and service, along with end-user education."
End User Education
Orlowski went on to say that, "Two years ago, we had had extensive research conducted to determine end user interest. Conducted on a market-by-market, application-by-application, it was revealed that people wanted to know more about bearing protection and bearing isolation technology. Whether they used Bearing Isolators or not, whether or not they knew about Inpro/Seal products, the majority of the respondents stated they wanted to know more about bearing protection."
"With this as a background, the company invested heavily into an "educate and inform" marketing approach," Orlowski concludes. "This new literature is part of the investment we're making so the users and potential users of our products are fully aware of the benefits obtained through the implementation of our technology. We know that the best customer is an educated customer."
About Inpro/Seal
Inpro/Seal Company is the originator and the world's number one manufacturer of bearing isolators, used to protect motor and pump bearings, machine tool spindles, turbines, fans, gear boxes, paper machine rolls and many other types of rotating equipment. Additional applications include the sealing, handling, processing, packing and storage of dry particulates, powders and bulk solids.
As the recognized global leader in bearing isolator technology, Inpro/Seal products are marketed to the aerospace, automotive, petroleum, refining, nuclear, power generation, metalworking, food processing, grain processing, chemical, water, wastewater treatment, metalworking, hydrocarbon processing, HVAC, pulp and paper, mining, ore processing and general industrial markets.
Signoff
To obtain a copy of the literature or for more information on bearing protection and/or Inpro/Seal Bearing Isolators and Shaft Seals visit: http://www.inpro-seal.com. Contact information: Jason Putnam at: Inpro/Seal Company, P.O. Box 3940, Rock Island, Illinois 61204. Phone numbers are: (800) 447-0524 or (309) 787-4971. Fax number is: (309) 787-6114.
###