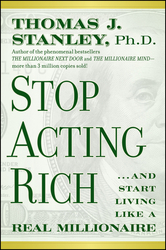 Stop Acting Rich...And Start Living Like a Real Millionaire
Hoboken, NJ (PRWEB) September 30, 2009
In his most timely book to date, "Stop Acting Rich...And Start Living Like a Real Millionaire," #1 New York Times bestselling author of "The Millionaire Next Door" and "The Millionaire Mind," Thomas Stanley reveals the results of a major survey which uncovers the sharp differences between the spending habits of real millionaires versus those who are just "acting rich." The steep price we're paying for the credit crisis begs the question: what led so many Americans to spend so far beyond their means? Why did so many buy into the myth that hyper spending like the rich would somehow convey real wealth? It turns out that the big spenders aren't who we thought they were. The "aspiring rich" far outspend real millionaires, who rarely spend above their means regardless of the extent of their wealth. As a result, they've mortgaged their future on an illusion.
"Stop Acting Rich...And Start Living Like a Real Millionaire" (October 2009; Wiley; $26.95; 978-0-470-48255-1; Hardcover) exposes the huge gap between what we think "rich" looks like versus what it actually is. Dr. Thomas Stanley's research and the national survey carried out on his behalf by University of Georgia Survey Research Institute rips the lid off just about every assumption we have about who the really rich are (and aren't), what they do (and don't do) and what they buy (and don't buy).
For example:

The #1 most popular make of car among millionaires is Toyota--not BMW or Mercedes
Real millionaires pay about $16 (tip included) for a haircut at a traditional barbershop
Nearly 4 in 10 millionaires surveyed buy wine that costs around $10
There are currently more than 350,000 millionaire educators (working or retired teachers or professors)--a profession that is far better at transforming income into true wealth than doctors or lawyers
Only 5.7 percent of all millionaires surveyed nationally paid $1,000 or more for their most recently acquired suit
Sixty-four percent of all real millionaires have never owned a second house - not even a rustic log cabin in the woods
The proportion of Americans who owned boats in 2006 exceeded the proportion who left an estate of $1 million or more in 2007 by a ratio of nearly 5 to 1
In the U.S., there are nearly three times more millionaires living in homes that have a market value of under $300,000 than there are living in homes valued at $1 million or more
The number one preferred brand of shoes worn by millionaire women is Nine West and their favorite clothing store is Ann Taylor--with the Gap and Costco not far behind
Most real millionaires eschew Rolex, Omega and Tag Heuer timepieces in favor of Seiko watches
Those who give away larger portions of their income to charitable causes end up accumulating more wealth.
In "Stop Acting Rich," Dr. Stanley explores the profile, professions, and psychology of the typical status-and-brand-obsessed U.S. consumer. He uncovers who the most successful wealth accumulators are - not doctors and lawyers or business professionals, but educators, engineers and farmers. Funeral directors, for example, are better at accumulating wealth than doctors even though their income ranks well below doctors.
The book makes clear the greatest cause of our financial woes: residence, but it's not only the price of our home, it is also where we live. Live in an upscale neighborhood and you will spend more on everything from your car to your haircuts. Successful wealth accumulators understand that keeping up with the Joneses is a drain. Far better to live in a community where the neighbors' net worth is lower than theirs and Grey Goose is not on the menu.
By revealing the truths about what millionaires really spend their money on, and how the rest of us spend in an illusory attempt to emulate them, Dr. Stanley has written an important, must-read book that will transform the debate about America's hyper consumer culture, and show us all how get on the right path toward attaining genuine, long-lasting wealth now and for the future.
About the author
Dr. Thomas J. Stanley, America's foremost authority on the affluent, is a highly regarded researcher, advisor, speaker, and author of several award-winning books on America's wealthiest population, including "The Millionaire Next Door" and "The Millionaire Mind," which, collectively, have sold more than 3 million copies and spent more than 170 weeks on the New York Times' Bestseller List. A university professor for two decades before leaving to pursue a career researching and writing about American's millionaires, Dr. Stanley has also appeared as a featured guest numerous times on The Today Show, 20/20, and The Oprah Winfrey Show. Dr. Stanley and his work have been cited extensively in the national media, including The Wall Street Journal, The New York Times, Forbes, Fortune, Time, Money Magazine, Reader's Digest, U.S. News & World Report, and USA Today. Dr. Stanley is also chairman of the Affluent Market Institute, through which he has developed research-based marketing and selling strategies for identifying, attracting and retaining wealthy clients.
Visit his website at http://www.thomasjstanley.com.
###