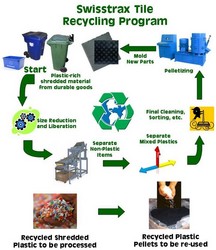 Indio, CA (PRWEB) October 1, 2009
After 2 years of research, testing and re-testing, Swisstrax is now able to offer a high-quality recycled flooring tile, made of reprocessed goods. The recycled flooring process is all done within a 10 mile radius of their factory in Southern California; not trucked across the country to a recycling facility and back as with some products.
They are turning recycled parts into guaranteed quality recycled flooring tiles at lower costs. They will also either buy back your floor and pay you a fair price or give you a credit towards future purchases of garage flooring products should you decide you want to use a different style or color of tile. The product they receive in return will be turned into recycled flooring again, so the recycling circle is closed. On top of creating a full circle recycled flooring process, these tiles can replace products that can be damaging to the environment such as some epoxy resins, concrete coatings and paints. Another advantage is that you can keep your recycled flooring investment since you can move the recycled floor to a new home or building, or you can leave it as an upgrade for your sale. Also noted, there are no chemicals needed for installing these snap-together tiles.
The recycled flooring tiles installed can take up to 50,000 lbs. of rollover weight, have a 7 year limited warranty and are up to 50% off of regular retail prices. Swisstrax will offer these easily-installed recycled flooring tiles in their most popular colors in 2 tile designs.
Swisstrax is also still testing BIO materials such as corn and soya as well as recycled rubber products for safety matting and anti-fatigue products. The recycled flooring research goes on….
About Swisstrax -
Swisstrax, Inc. offers a practical and modern alternative to standard concrete and epoxy garage flooring. Randy Nelson, President, directed the development of this revolutionary garage flooring product line in Switzerland over 19 years ago. Randy brought the product back to the USA three years ago and has centrally based his garage flooring manufacturing and distribution center in California since.
Since manufacturing began in the United States, Swisstrax has been chosen by AVIS, Mini USA dealerships nationwide as their garage flooring of choice for showrooms. Hendrick Motorsports, US Armed Forces, Ferrari, Bobby Unser Racing, Grand Am, American Le Mans, Mini USA, Ford Motor Company, and most recently, Shelby Automobiles are just some of the clients to take advantage of the distinctive look of the Swisstrax's garage flooring line.
Contact:
Randy Nelson
Swisstrax Corp.
760-347-3330
swisstrax.com
###