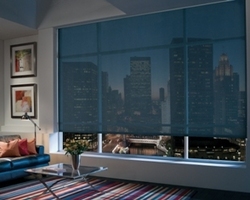 We survey our customers constantly, asking them how we can improve the Blinds.com experience
Bridgeport, CT (PRWEB) October 8, 2009
Online shopping is the easiest and most sought after approach to setting up or re-decorating a new place. The thriving, Texas based company, Blinds.com is capitalizing on the ease of virtual retail by expanding their already large customer base to include international customers- by partnering with parcel forwarding force BongoUS.com. "We were the first to sell custom window blinds online, launching a blinds website in 1994! We think our success comes from our core values of "Continual self-improvement", "Pioneering", and"Experimentation without the fear of failure," explains Public Relations Manager Esther Steinfeld.
Blinds.com has a huge selection of blinds, drapes, shades, and shutters. In addition to many products, varying from inexpensive to high end, they also have a knowledgeable team of people in place to help you as much or as little as you prefer. "We survey our customers constantly, asking them how we can improve the Blinds.com experience," adds Steinfeld. There are thousands of customer reviews available on their website verifying their successful approach to customer service and satisfaction.
The integration of Bongo International to the shopping cart went smoothly as expected. The IP sensitive implementation provides Blinds.com with the ability to redirect/restrict traffic based on the visitor's country of origin. Not only was the implementation easy to achieve, but it is convenient "because we know that it'll only show up for people outside the USA so won't distract our USA visitors," affirms Chief Marketing Officer Daniel Cotlar. This allows Blinds.com to promote their services and products in different countries where they have specific marketing needs and service capabilities in different countries. When an International customer visits the Blinds.com site, there is a link to Bongo International on the homepage and after adding your carefully designed blinds and curtains to the cart, the customer will just click the International Shipping logo next to the shopping cart and within minutes, have access to a U.S. based address.
"In initial conversations with Blinds.com we found they had similar concerns that most U.S. retailers have with reaching out to international consumers. Fraud, customs compliance, and customer service has been the main reason most retailers do not open their doors to international orders", says Greg Unger, Sales Manager at Bongo International. "By providing an easily implemented application, Bongo International has provided a global solution in which now Blinds.com can accept orders from over 220 countries."
Bongo International provides an easy transition into international e-commerce for companies based throughout the United States and with varying products. By utilizing the U.S. Address, a retailer only has to ship their product domestically to Bongo International's warehouse in Bridgeport, Connecticut.
About Blinds.com
Blinds.com is America's leading blinds retailer online. They offer huge savings on high-quality, custom window coverings including window blinds, shades, plantation shutters, draperies, and unique window covering solutions. Blinds.com is committed to their customers and offers a complete Satisfaction Guarantee, online video guides, and phone assistance seven days a week. Go online to http://www.Blinds.com to shop, or call 800.505.1905 for prices.
About Bongo International
Bongo International is a premier provider of international shopping cart solutions to help retailers expand their business to international consumers. They fraud-screen international consumers and provide them with a US address, giving them the ability to shop on U.S. websites. Bongo's integrated application can easily be implemented on a retailer's site through the use of hyperlinks, converting international consumers into fraud-free domestic orders. By providing a consolidation point for U.S. orders, Bongo can save the international consumer 82% off common carrier rates. Bongo International's application is currently active on more than 450 U.S. retail websites.
Bongo International's website can be found at http://www.BongoUS.com.
# # #