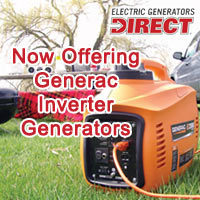 We've already seen an influx of orders for the new models. People are looking for a quality built, affordable option in the inverter market and these new models fit that need
Bolingbrook, IL (PRWEB) October 6, 2009
ElectricGeneratorsDirect.com - is expanding its inverter generator offering, with the inclusion of Generac inverter generators.
Generac Power Systems is known as an engineering company that delivers real value to their customers. These new inverter generators give consumers a lightweight, durable option in the portable inverter market, by a name they know and trust. The new for 2009 line-up includes 3 models with power outputs of 800, 1600 & 2000 watts which makes them ideal for camping, tailgating and general portable power requirements.
"We've already seen an influx of orders for the new models. People are looking for a quality built, affordable option in the inverter market and these new models fit that need," said Jon Hoch, founder and CEO of Power Equipment Direct, the parent company of ElectricGeneratorsDirect.com.
With the addition of this product line, the inverter generator category now has a wider offering.
In addition to carrying the Generac Power Systems inverters, ElectricGeneratorsDirect.com also carries a complete line of Honeywell, Robin and Yamaha inverter generators and accessories.
Power Equipment Direct operates nine niche online superstores. In addition to ElectricGeneratorsDirect.com, the Bolingbrook, IL-based company operates AirCompressorsDirect.com, PressureWashersDirect.com, SnowBlowersDirect.com, MowersDirect.com, WaterPumpsDirect.com, SumpPumpsDirect.com, ChainSawsDirect.com and LogSplittersDirect.com
###