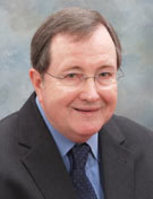 A couple of years ago, Stan couldn't go ten feet without using his cane.
Califon, NJ (PRWEB) October 6, 2009
W. Stanton "Stan" Smith, National Director of Cross Generational Initiatives at Deloitte, posted a home video on Facebook with the following caption: "See the results of nearly four years of a type of interval training. I am now walking without a cane, and heel to toe. This is remarkable as I've had Parkinson's Disease for 11 years. While not a cure, this training regimen appears to be really improving the quality of my life."
Inspired by the video, Peter Clayton, the producer/host of Total Picture Radio, a popular career and leadership development podcast, asked the Deloitte executive if he would be willing to record an interview describing his battle with Parkinson's Disease. Smith agreed, recommending Clayton speak with Dr. Irving Dardik, founder of the LifeWaves Cycles Exercise program, the "training regimen" Smith referenced on Facebook.
Clayton travelled to Califon, New Jersey to meet Dr. Irving Dardik and his partner, Alison Godfrey. Dardik began to study circadian rhythms, or waves after the untimely death of his friend and Olympic athlete, Jack Kelly. "I realized that the training of the human body, the physiology, the chemistry isn't just a matter of exercise, it's a matter of learning of how to shape waves, shape my cycles, so my rhythmic patterns of my physiology collectively can be synchronized and organized," Dr. Dardik said. "It's like I'm conducting my own orchestra. This was the beginning of understanding LifeWaves as a cyclic program to create health -- where I can resynchronize, repattern, reshape my rhythmic chemistry so that everything was doing the right thing at the right time in the right place collectively and therefore, create health."
Clayton, who has known Smith for five years, watched as he not only walked, but jogged up Dardik's driveway. "A couple of years ago, Stan couldn't go ten feet without using his cane." Clayton observed. PD is a degenerative disease, and yet, "Stan has clearly regained mobility, balance and confidence he had lost." Smith credits the support of his wife, Roz, and his partners at Deloitte with helping to discover how he could still contribute to the Big 4 accounting firm at a high level.
Speaking about LifeWaves, Smith said, "It's a way to re-pattern your body's ability to respond to stress and its ability to recover from stress. I think anyone with Parkinson's knows that having Parkinson's defines being under stress. It also helps with the circadian rhythms. For most Parkinson's patients day becomes night and night becomes day. I was sleeping three - four hours at most; I now sleep easily seven." Smith is quick to point out that he continues to take prescription medication. "This is not a substitute for medication; medication has a different role and the exercise has a different role. So the two together of one plus one equals more than two."
Dardik told Clayton, "When I was in medical school and as a surgeon, no one ever talked about chronobiology the biology of rhythms; there was no such word back then and still today, it's not taught as such." Adding, "People are beginning to wake up and realize how significant the rhythms of nature are. I began to see a commonality in all chronic disorders. They're all rhythmic disorders. So the idea is looking at it from a new direction completely, not from the direction of disease but from the direction of health and rhythms, working together for me, designed for health." Smith concluded, "The program is designed to reshape the heart waves. Now, it's not just for people who are sick; it's for people that are healthy. It's a way to rediscover health and your body."
Three podcasts, "Stan, Walking - Fighting Parkinson's Disease With a New Approach." - "Making Waves - Dr. Irving Dardik's Remarkable Concept for Maintaining Health," and "Creating Health - Part Two: Podcast Series with Dr. Irving Dardik and Alison Godfrey," are in the Big Picture channel of Total Picture Radio. http://www.totalpicture.com . The feature pages include full transcripts of the interviews.
About Dr. Irving Dardik and the LifeWaves® Cycles Exercise program: Dr. Dardik is the recipient of AMA's highest award for research, the Hektoen Gold Medal. He was the Founding Chairman of the U.S. Olympic Committee Sports Medicine Council. The LifeWaves program, created by Dr. Dardik, is designed to teach and empower individuals to repattern the rhythmic chemistry of their physiology to create health. For more information, contact Ryan Freilino 908-439-9500. Media Inquiries Contact Victoria Vitelli, 908-439-9500. Web site: http://www.lifewaves.com .
###