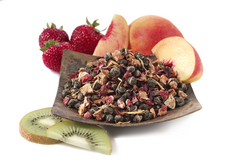 Atlanta, GA (PRWEB) October 14, 2009
Teavana debuts their new masterful collection of 'Exquisite Infusions' teas on October 15, 2009. Known for procuring the finest loose leaf tea from around the world, Teavana is debuting 32 new teas and 15 reformulations, which include a combination of pure estate and flavored white, green, oolong, black and herbal teas.
The 'Exquisite Infusions' tea debut features spirited new teas such as Lemon Youkou herbal tea (a tart blend of citrus pieces and florals), Raspberry Soiree (a bright raspberry green tea), and unique Youthberry white tea (with antioxidant-boosting açaí berry). This collection of teas further extends the wonderful flavors and health benefits that make Teavana the most recognized and respected brand in the tea industry.
The five new white teas will become instant classics and have special value. White tea is popular because it contains the highest amount of antioxidants and very little caffeine. Paired with 'Superfoods' like goji berries, red currants and açaí berries, white tea becomes a more delicious and healthier cup. Strawberry Misaki is a hand-tied artisan blooming tea which has a wonderful strawberry flavor and blossoms into a beautiful flower as it steeps. Body + Mind blends ever popular Jasmine Dragon Phoenix Pearls green tea, Drum Mountain White Cloud white tea, and Monkey Picked oolong tea. Go Go Goji is a delightful pairing of sweet lychee with tart goji berries for a vitamin-packed burst of flavor. Finally, rare delicately hand-rolled white tea pearls are a delicious national treasure in our Silver Yin Zhen Pearls.
Tea lovers continue to treasure green teas and Teavana has added seven new green teas for 2010. Golden Jade combines gold and silver tea buds creating a unique mixture that's part green tea, part black tea, producing a refreshingly delicate cup. The rich and fruity Peachberry Jasmine Sutra combines sweet jasmine scented green tea pearls with robust strawberries and peach rooibos tea unleashing a powerful punch of fruity taste and antioxidants. The healthful combination of sea buckthorn berries and cranberries combine in Superfruit Unity green tea. And Three Kingdoms Mao Feng is a young downy green tea, fresh from the gardens of the Fujian Province.
Teavana has a refined selection of oolong tea with two new additions. Eastern Beauty oolong, historically known to be a favorite of Queen Elizabeth, will be available in limited quantities just in time for the tea connoisseur on your holiday shopping list. Toasted Nut Brûlée is the consummate after-dinner tea (oolong tea is reported to help enhance the body's metabolism, suppress hunger, and is often referred to as 'dieter's tea') and a delicious substitute for dessert with a rich and creamy blend of sweet nuts and candied fruits.
Pu-erh tea is quickly becoming the tea of choice among dieters (and those in the know). This debut has two new exciting blends that combine Pu-erh fermented/ripened black tea with oolong tea. Skinny Chai Pu-erh is a new chai tea filled with luscious berries and chai spices. Weight To Go! is a mélange of strawberries, mint, apple bits and the unbeatable combination of pu-erh and oolong teas.
The broad category of herbal teas includes a variety of herbal blends, from a tart Strawberry Lemonade blend that harkens back to sitting on a porch swing sipping it over ice, to a crisp Rooibos blend called Tahitian Limeade. Another blend that's sure to please the palate, and get one moving, is the exciting Raspberry Riot Lemon Maté which pairs green Argentinean maté with plump ripe raspberries and zesty lemongrass. This assortment of red and green rooibos teas, South American maté, and delicate flowers and herbs from around the world will be sure to inspire a sense of adventure.
Rare and flavorful black teas complete the mix, with the delightful blend of cocoa-rich black tea and energizing maté tea combination in My Morning Maté, or the soothing, yet invigorating Thousand Mountain Jasmine black tea in which rare Golden Monkey tips which are scented with jasmine blossoms six times. For those preferring a traditional rich black tea, Copper Knot Hongcha is comprised of a hand-rolled tippy black tea from the Yunnan Province of China. And finally, Peach Cran-Tango is a delicious blend of sweet peach pieces, crisp cranberries and flavorful black teas - an iced tea lovers delight!
In conjunction with the tea launch, Teavana will be adding new gift sets, teapots, and other tea accessories in time for the holiday season. The new collections are designed to excite the tea expert as well as the novice tea lover. Visit any Teavana store or Teavana.com to experience all the new teas and tea accessories.
Atlanta-based Teavana first opened in 1997 with the name meaning 'Heaven of Tea'. The mall-based stores are part retail shop and part tea emporium with over 100 different selections of loose-leaf tea from all over the world. Teavana currently has over 100 store locations in North America.
###