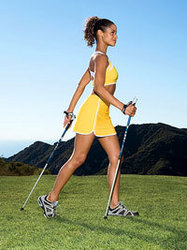 Walk Around the World in 31 Days
New York, NY (PRWEB) October 10, 2009
The walking craze hits a monumental peak with FitnessMagazine.com's "Walk Around the World in 31 Days" challenge. Whether doing Nordic walking or walking for weight loss and fitness, walkers are invited to join the party. At http://walk.fitnessmagazine.com/challenges, there is the option to participate as an individual or to get a group together and join as a team. Once you sign up, you can track your own daily progress online and check on the progress of the challenge.
"We know there are millions of walkers out on the streets and trails these days, and we want them all to sign up to walk the circumference of the globe together in 31 days," said Stephanie Jones Wagle, Site Director for FitnessMagazine.com. "Everyone is aware of the calories you can burn walking, and fall is the perfect time to update or start a walking program. We even have a section on the site where participants leave messages about their progress, which is motivating to other walkers."
FitnessMagazine.com provides information on all aspects of walking for exercise, such as a Nordic walking guide, that states even a beginning exerciser can burn up to 30 percent more calories while walking with poles. If walking for weight loss, the calories burned walking are about 500 per hour, almost as much as for running.
The benefits of walking are well known, but FitnessMagazine.com outlines how it also benefits the planet in its Walking Workouts for a Greener Planet. By walking just 30 minutes a day instead of driving, we would save over eight billion gallons of gas a year and reduce carbon dioxide emissions by 82 million tons. And further, if just 10,000 people walked only five miles per week instead of driving, we would eliminate the carbon dioxide emissions created by over 200 cars.
Although walking off 10 pounds in one month can sound like a significant challenge, FitnessMagazine.com provides three fitness walking workouts that make it much easier. It even outlines a day-by-day, week-by-week fitness walking plan with specific timing for each different recommended style of walking.
For more tips for beginning or updating a fitness walking program, walkers can find more information at http://www.fitnessmagazine.com/workout/cardio/walking/.
Women are invited to ask questions, swap advice, and share information with members of the Fitness Magazine community on Facebook at: http://www.facebook.com/fitnessmag. Tweeters can get daily meal ideas, exercises, and news from our editors on the go by following Fitness Magazine at: http://twitter.com/fitnessmagazine.
About FitnessMagazine.com
Developed by the experts at Fitness Magazine (http://www.fitnessmagazine.com/), this is the premiere website for exercise, health, and nutrition information. From our Personal Fitness Trainer to our healthy recipes, from video workouts to our free exercise logs, FitnessMagazine.com is the guide you need to help you reach your fitness goals and celebrate your successes.
Like the magazine, FitnessMagazine.com is dedicated to delivering strategies and tools that help women make little changes to achieve big success. With a you-can-do-it attitude, our workouts, health and beauty advice, diet plans and success stories motivate readers to get strong in mind, body and spirit. The magazine empowers women to embrace fitness as a lifestyle--not an age or dress size--and to change the conversation from "skinny" to "healthy."
###