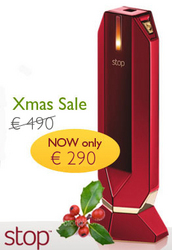 (PRWEB) October 14, 2009
Tel-Aviv, Israel Ultragen Ltd., the makers of the TriPollar® STOP™and POSE™ announce today a special promotional price for its clinical anti-aging device TriPollar® STOP™ for FACE:
With the festive season coming up, the time is now to get your face and body looking fine for the festivities. The latest beauty must-have devices give you professional results from the comfort of your own home.
TriPollar STOP for FACE and TriPollar POSE for BODY
use the latest 3rd generation TriPollar® radio frequency technology adapted from the clinic to home use.
TriPollar STOP anti-aging device
Combats wrinkles and fine lines by stimulating the dermal layer from within with the latest anti aging treatment. Recent clinical trials showed increase of 50% in new collagen regeneration and a reduction of fine lines and wrinkles of up to 67%, and 86% of testers said their skin looked younger and/or more radiant after the full course of treatment.
With regular use, skin becomes thicker, firmer, tighter, plumper and smoother.
A special Xmas price €290 representing 40% discount from RRP €490 is offered to customers purchasing the TriPollar® STOP™ during this holiday season till December 31st, 2009.
TriPollar POSE (€390) gives you the power to reduce your body skins' bumps and dimples, giving you a more defined silhouette. Perfect for getting in shape for those Christmas parties.
Let TriPollar technology give you the tool to grow young gracefully this season.
The Promotional price is available NOW on-line at: https://www.stop-age.com/tripollar-shop.php and selected high-end department stores in Europe
For further information, imagery or samples please contact:
Dana Ayal: dana_a (at)ultra-gen (dot) com
info (at) ultra-gen (dot) com
###