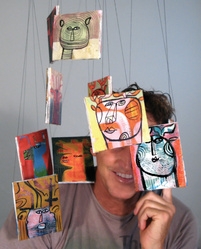 After 12 years, I have painted a lot of Reindeer, they always take a long time to paint, but have their own way of coming to life, which is usually a surprise and that's what's good about it
Los Angeles, CA (PRWEB) October 22, 2009
This year marks the 12th Annual Brad Nack 100% Reindeer Art Show and his first international Art Tour, with exhibits in 25 cities stretching from California to the U.K. Take a Reindeer Home For the Holidays.
A small idea that's just quirky enough to get some attention. In 1993, Nack created one Reindeer painting -- it ended up in a winter solstice art show, where it attracted over 25 purchase inquires. The gallery owner persuaded Nack to consider painting 50 Reindeer for the next year.
"After 12 years, I have painted a lot of Reindeer, they always take a long time to paint, but have their own way of coming to life, which is usually a surprise and that's what's good about it," says Nack. Collectors have arrived before the doors open. Followers have brought their own "red dots" so they can claim their piece without waiting for the gallery staff to assist them. Last year the entire show sold out in 7 minutes.
"I am shaking hands and smiling at all the cool people who've shown up at my art show. It's a success and it is all anyone could ask for, lots of sales in a nice gallery space. Some friends suggest drinks at an after party, and I decline, because I need to bleach the footprints off the walls, pick up used wine glasses, sweep and mop the floor, all by midnight, then drive 2 hours to the airport and fly all night across the continent to make it to the Sunday afternoon show in Miami. I haven't slept in 2 weeks all because I decided to 'make it big' as an artist."
Do you want to see how Brad is holding up? Well, more than likely he is coming to a town near you this Holiday Season, with a bag full of Reindeer Paintings and a case of wine, celebrating the 12th Annual Brad Nack 100% Reindeer Art Show Tour. Please check out the tour dates and amazing collection of reindeer paintings at the links below.
ART TOUR Current exhibit listings (see below):
November 4th | Santa Barbara, CA | Paul Cumes Fine Art Gallery | 6pm-9pm
November 6th | Brooklyn, NY | Desert Island | 7pm-9pm
November 7th | Brooklyn, NY | Union Pool (Music show with Sharon Van Etten) | 9pm-11:45pm
November 19th | Portland, OR | Valentine's | 5-9pm
November 21st | Tulsa, OK | Private Party | 4-8pm
December 3rd | Brooklyn, NY | 303 Grand | 7pm-10pm
December 5th | Brooklyn, NY | Brooklyn Comics & Graphics Festival | 11am-7pm
December 10th | Santa Barbara, CA | Restaurant Roy | 6:00-9:00
December 11th | Santa Barbara, CA | Tennis Club of Santa Barbara | 5:30 - 7:30pm
December 12th | Los Angeles, CA | Ghetto Gloss | Time TBA
December 13th | Miami, FL | Private Party | Time TBA
December 19th | Mammoth, CA | Mammoth Ski Museum | 4pm-7pm
London, Los Osos, Austin, San Francisco | TBA
For up to the minute details on exhibit dates, times & last minute added locations please click here.
Brad Nack is available for interviews. Download our Electronic Press Kit here.
Contact:
Brad Nack
805 845-5389
http://www.bradnack.com
http://www.reindeerpower.com
###