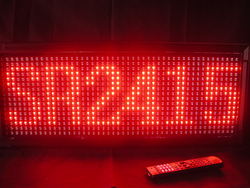 Rowland Heights, CA (PRWEB) October 16, 2009
Launching a new product line on LED signs is AffordableLed.com, the leading authority in quality produced LED signs, neon signs, and open signs. Outdoor and indoor programmable message boards are an additional tool that will help businesses gain visibility and have a competitive edge over other businesses. Featuring animated movements, a remote keyboard, and multiple fonts, the outdoor and indoor programmable message boards are available in single color, tri color and full color.
Additionally, the online manufacturer of LED signs and open signs is offering a limited promotion on SR-2415, a single color outdoor programmable message board, for only $850.00. At the original price of $939.00, this gives businesses an additional $89.00 of savings. The SR-2415 has exceptional visibility of up to 500 feet and has a lifespan of 100,000 hours. Other programmable LED signs on sale are NS-500RG2 and NS-1000UA2, for as low as $180.00. And just like all other LED signs offered by AffordableLed.com, all outdoor programmable LED signs on special sale have a 1-year warranty as a guarantee that all products are manufactured with only the highest quality.
Topping this month's offer is free shipping for all LED signs and neon signs ordered from AffordableLed.com. Excluding all orders on programmable LED signs, free shipping is available within 24 hours of check-out on LED and neon sign orders.
Visibility is a good marketing strategy for any business. Because name recall is likewise important, the use of LED signs and open signs is a surefire way for any customer to visit an establishment that displays such vivid and bright marketing tools. Purchase one now and witness the benefits your business can reap from LED signs and open signs.
About AffordableLED.com:
Based in Southern California, AffordableLED.com is the leading manufacturer of indoor and outdoor LED signs. All LED signs are of high quality, produced with cutting edge technology. LED signs can be customized to suit the needs of the clients. All LED signs sold have a 1 year warranty and a lower-than-market price guarantee. Press release produced by Cybertegic.com - an Internet marketing services agency that specializes in search engine optimized press release marketing (SEO marketing).
###