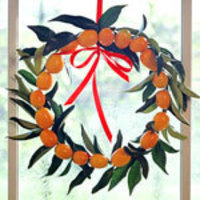 We've had a wonderful time this year, not just in digging out our old familiar Thanksgiving recipes, but testing some delicious, creative new recipes that make use of fall produce
New York, NY (PRWEB) October 16, 2009
With Thanksgiving fast approaching, BHG.com and Better Homes and Gardens are sharing this year's Thanksgiving recipes, crafts and decorations. Whether preparing the holiday for an intimate family group who love the traditional celebration, a large group who want the Thanksgiving menu to be different every year and the house to be very festively decorated, or a medium-size group who love it all, readers will find inviting Thanksgiving recipes and decorating ideas at BHG.com and in Better Homes and Gardens magazine.
BHG.com is featuring tons of Thanksgiving crafts ideas that make fun projects for the whole family. There are photos of creative table settings, suggestions for Thanksgiving decorations for the home, and even examples of place cards and invitations. And best of all, for people with limited time, BHG.com includes a section of ideas for Thanksgiving decorations that can be easily switched into Christmas decorations.
"We've had a wonderful time this year, not just in digging out our old familiar Thanksgiving recipes, but testing some delicious, creative new recipes that make use of fall produce," said Doug Crichton, Editor-in-Chief of BHG.com. "Our staff loves this time of year, and we are excited to apply their enthusiasm to making our readers Thanksgiving celebration as memorable as possible. And we try to cover all the bases - from the first-time Thanksgiving chef who needs to know basic things such as how best to carve the turkey, to the very experienced one who is looking for new, more complicated recipes."
All types of Thanksgiving recipes are included on BHG.com, including perfect pumpkin pie recipes, eight unique cranberry sauce recipes, 14 holiday soups, potluck recipes and more - all with photos of the finished product. Knowing what beverages to serve with the turkey can sometimes be challenging, but BGH.com solves that problem with non-alcoholic and alcoholic drinks suggestions and a guide recommending wines for the Thanksgiving meal.
For people looking for complete Thanksgiving menu ideas, BHG.com provides several menu options, from a healthy Thanksgiving menu, to a Cajun-style menu, to an old-fashioned Thanksgiving feast. Of special interest is a complete Thanksgiving menu created for BHG.com by Scott Peacock, a James Beard award-winning chef. It's written up very simply with photos so that cooks can make the entire menu or just pick a few of the dishes to include in their Thanksgiving celebration.
To get up-to-the-minute Thanksgiving recipe and craft ideas and the latest Better Homes and Gardens magazine information, BHG.com invites readers to follow them on Twitter @BHGHolidays.
About BHG.com
Developed by the experts at Better Homes and Gardens, BHG.com is the premiere home and family site on the Web, and the interactive companion to Better Homes and Gardens magazine. BHG.com is for people interested in turning home, cooking, and gardening inspiration into action.
BHG.com is focused on decorating, building and remodeling, crafts, entertaining, cooking, and gardening. It also has extensive information for women and families. In addition to providing useful tools and advice, BHG.com's trusted experts keep visitors informed on the latest developments and trends around home and garden. BHG.com was designed with real people in mind. It has easy-to-use interactive tools, clear visuals, step-by-step instructions, and money-saving suggestions. It makes life easier and more enjoyable.
# # #