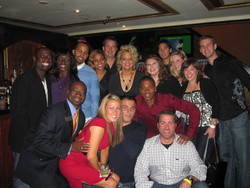 We fully support 'Going Green' at Jim Ellis Audi Atlanta!
Atlanta, GA (PRWEB) October 17, 2009
The event was called "Waste Not, Look Hot" and was a fashion show to be held at Opera Nightclub from 7 PM to 10 PM on October 15th. Shown on a traditional runway, the ECOuture clothing was made from recycled and reused materials to help prove that high fashion doesn't depend upon consumer waste.
Recycling is the message - whether it's recycling clothing or organs! "We fully support 'Going Green' at Jim Ellis Audi Atlanta!" said Tracie Dean, General Manager.
"When Melissa approached me about sponsoring the ECOuture event, I immediately agreed!" said Dean, "Audi is doing great things with their new TDI engines to help the environment. We encourage our customers and employees to recycle everything possible. It is a really cool idea to promote the recycling of body parts, too!"
Jim Ellis Audi Atlanta had two of their earth-friendly clean-diesel TDI vehicles at the event, in addition to being the premiere sponsor for the event itself.
Up next is the 05 Buckhead opening hosted by Jezebel:
The Grand Opening for 05 Buckhead will be hosted by Jezebel Magazine on October 22, 2009 from 6:00 PM to 9:00 PM. 05 Buckhead is a new condo space, and throughout the model home tours, there will be several rooms featuring DJs, bars and raffles. The main event will be held on the rooftop of this stunning new building. "For the Heart of Africa" - a non-profit group, will also be there raising money to build wells in Africa.
As part of Jim Ellis Audi Atlanta's sponsorship, three of their Audis will be parked under the portico as tours are given of model homes. "Audi is happy to support the growth and development of Atlanta." Said Tracie Dean of this event. "We share a positive partnership with Jezebel magazine and hope to share a positive partnership with the new residents of 05 Buckhead."
About Jim Ellis Automotive Dealerships: The Jim Ellis Auto Dealerships are a family-owned and operated business with dealerships located in Atlanta and Marietta, Georgia. The Jim Ellis dealerships sell new cars from Audi, Chevrolet, Buick/Pontiac/GMC, Hyundai, Mazda, Porsche, Saab and Volkswagen, as well as a wide selection of used cars. To learn more, or to browse a complete inventory online, please visit the Jim Ellis website
Jim Ellis Audi Atlanta is the only Magna Audi dealer in Georgia. Jim Ellis Audi Atlanta offers outstanding service and the best deals on new and certified preowned Audi cars and SUVs, from the sleek R8 to the clean-diesel luxury SUV the Q7 TDI. To learn more about this business please visit the Jim Ellis Audi Atlanta website
###