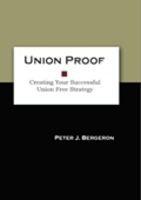 or communicate your union-free philosophy
Norcross, GA (Vocus) October 21, 2009
Last year, Peter Bergeron released his first book, Union Proof: Creating Your Successful Union Free Strategy. Today, the book reached a circulation of over 2,500, having become required reading for labor relations and human resource professionals nation-wide.
Using lessons learned from his more than 33 years in labor relations, where he led several successful counter-organizing campaigns for General Dynamics, "Union Proof" features an easy to follow process for all Human Resources and Labor Relations professionals. It includes multiple actionable items and is filled with powerful tips and tools for remaining union-free.
"I was pleasantly surprised by all of the positive reaction and feedback the book has received," Bergeron said. "It demonstrates that companies are learning they need to speak to their employees before a union does."
One reason for the interest in the is the recent changes in the political climate. The new, labor-friendly Washington is promoting several pieces of legislation including the Employee Free Choice Act (EFCA) and the RESPECT Act. EFCA, which has received a large amount of publicity, is legislation designed to smooth the way for the growth of organized labor, while the RESPECT Act aims to alter the definition of 'supervisor' for union organizing purposes. The Obama Administration has also issued a number of executive orders sympathetic to labor unions.
"I get calls almost everyday asking about the latest on EFCA or some other piece of legislation," says Walter Orechwa, Owner and CEO of employee communications firm, Projections, Inc. "The truth is that these are all moving targets and that makes it difficult to pinpoint what direction organized labor will move in. What companies can –and should - control, is their message to employees. A positive, union-free culture and message can combat whatever Washington throws at you."
Bergeron, who utilized both custom preventative and campaign communications tools from Projections during his time at General Dynamics, shared that sentiment, and warns companies that the worst thing they can do is nothing at all.
"It is a flawed philosophy to believe that union organizers will not try to organize your company or talk to your employees if you never use the word "union" or communicate your union-free philosophy," cautioned Bergeron. He went on to say, "Remaining silent on the issue of unionization is no longer an option. If you are not talking directly to your employees on this issue, you can bet the union organizers will."
"Union Proof: Creating Your Successful Union Free Strategy" by Peter J. Bergeron is available through online retailers such as Amazon.com, and can be purchased through Projections, Inc. The book is also offered free of charge to Projections' "Insider" members. See http://www.unionproof.com for more information.
About Projections
Ranked by Inc. Magazine in 2009 as one of America's fastest growing private companies, Projections provides the employee communication resources that address many of the most significant challenges businesses face today. Projections specializes in labor relations, and offers both custom and "off the shelf" video, websites and eLearning. Projections focuses on helping employers reach goals they might never have otherwise attained. With the most advanced technology available, Projections' work reflects the highest level of quality in videos, websites and innovative eLearning solutions for clients throughout North America. After more than 30 years in business and dozens of industry awards, Projections is proud to work with some of the largest - and smallest- employers in the world.
SOURCE: PROJECTIONS, INC.
# # #