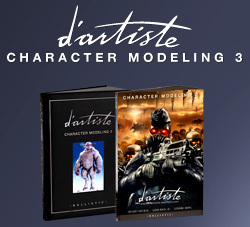 The aim of the d'artiste series is to work with the best artists in their field, and in their own words allow them to share their insights on the approaches and techniques which have taken them to the top
Adelaide, South Australia (PRWEB) October 29, 2009
In d'artiste Character Modeling 3, each Master Artist presents his 3D character modeling techniques through a series of tutorials which start with an idea and step through the process of bringing that idea to fruition. The book is divided into three sections based around each Master Artist. Artists' sections include a personal gallery, the artist's work and thoughts in their own words, a large tutorial section, and an invited artist gallery featuring character work from some of the most talented character modelers in the world. "The aim of the d'artiste series is to work with the best artists in their field, and in their own words allow them to share their insights on the approaches and techniques which have taken them to the top," explains Daniel Wade, Publisher at Ballistic Publishing.
d'artiste Character Modeling 3
The book begins with the work of Cesar Dacol Jr. where he draws upon 20 years of experience working in the movie industry to create three very different creature designs from concept sketch through to textured final render. Cesar's philosophy on working in the creative industry is well-explained, and his personal gallery showcases the many movie influences in his career. Next is the team from Guerrilla Games who show the techniques used on a major game project to create compelling characters. Jan-Bart van Beek, Art Director at Guerrilla Games, in conjunction with Massive Black details the process of game character head modeling from photography through to in-game characters. He then shows how the Helghast Sniper character class is created from sketch through to unique in-game texture effects with the help of Liquid Development. Jan-Bart also explains the workflow of a major game studio as it works with its partners, and the challenges of working with the currently available tools. Finally, Giovanni Nakpil, senior modeler at Industrial Light & Magic showcases his sculptural skills by conceiving a creature in clay, and then taking it through the process of modeling the forms, refining the topology, to the final steps of rendering and presentation. Giovanni's personal gallery showcases his amazing talent in both 3D and sculpture, and his invited artist gallery includes a who's who of legendary Hollywood modelers.
Production focus: Killzone 2
d'artiste Character Modeling 3 continues the d'artiste series' production focus with a behind-the-scenes look at the blockbuster Sony PlayStation 3 game 'Killzone 2'. Created by Amsterdam-based Guerrilla Games, this unique glimpse of game character creation shows how a major studio enlists specialist studios to create the huge number of assets required for a current-generation game. Art Director Jan-Bart van Beek discusses the challenges and techniques of managing the process, and then shows with the help of Massive Black and Liquid Development how specific tasks like head modeling and creating the Helghast Sniper class of character was achieved. Taking advantage of Guerrilla Games' in-house rendering technology, d'artiste Character Modeling 3 features beautifully detailed full-spread images along with in-game renders to show both the quality of the game art, and the amazing level of detail in these characters.
Exclusive Offer
Ballistic Publishing are pushing the educational possibilities for 3D artists even further with d'artiste Character Modeling 3 by making two of the featured tutorial characters available as downloadable high-resolution models. What better way to understand the 3D modeling process than by looking closely at the final meshes of these renowned character modelers? The first 500 customers who pre-order d'artiste Character Modeling 3 slipcase edition and all Limited Edition customers will receive a download link allowing them to start exploring the models in the book. The featured models are Giovanni Nakpil's quadruped creature, and Cesar Dacol Jr's Pond Guardian creature.
About the artists
Cesar Dacol Jr. has worked in the film industry for 20 years, starting his career in the makeup effects industry and transitioning to CG in the mid 90s. With a background in anatomy and traditional sculpting, he has worked as Lead and Modeling Supervisor, contributing to feature films such as 'Journey to the Center of the Earth 3D', '300', 'Barnyard' and 'Fantastic Four'. Cesar worked as Character Modeler and Technical Director at CORE Film Productions for 'The Wild' and served a three-year term as Adjunct Professor in Advanced Polygonal Character Modeling at Sheridan College. He is a beta team member for Pixologic's ZBrush, and an instructor for CGSociety's CGWorkshops.
Jan-Bart van Beek, as Art Director at Guerrilla Games, is responsible for the overall quality of art and animation. Originally a photography student at the Royal Academy of Fine Arts in The Hague, Jan-Bart soon turned to computer graphics software to enhance his work. After graduation, he applied his knowledge as a CG artist in the field of advertising. His ambition to create something more enduring eventually led him to join Guerrilla Games, where he quickly became the lead artist on the first 'Killzone' title for PlayStation 2, and then Art Director for 'Killzone 2'.
Giovanni Nakpil grew up in the Philippines being greatly influenced by sci-fi, horror and anime. He moved to Canada with his family in his teens and studied Computer Graphics at Seneca College where he began his interest in all things CG. Giovanni currently works for Industrial Light & Magic as a digital artist, creating creatures for films such as 'Pirates of the Caribbean 2', 'War of the Worlds' and 'The Spiderwick Chronicles'. His most recent work can be seen in 'Star Trek' in which he was the creature model supervisor.
Pricing and Availability
d'artiste Character Modeling 3 is available in two editions: Paperback with slipcase (USD$69); and Limited Edition (USD$170).
Publication Details

ISBN: 978-1-921002-67-0 (Slipcased), 978-1-921002-66-3 (Limited Edition)
Pages: 208 pages (Slipcased)/208 pages (Limited Edition)
Dimensions: 220 x 297mm
Editor: Daniel Wade
Publishers: Daniel Wade, Mark Snoswell
Shipping: Mid-November 2009
More details about the books and availability can be found on the Ballistic Publishing website
Praise for the Character Modeling & the d'artiste series
I can't recommend d'artiste Character Modeling 2 highly enough. Kevin Lanning's (Epic Games) tutorials on workflows for creating high-polygon and low-polygon Gears of War characters is fantastic. If you're a student interested in a behind the scenes peek of a next-gen character pipeline then don't miss out on this informative resource.
d'artiste Character Modeling 2 review, Art of the Game
The d'artiste series has been running for a few years now under the slogan "Digital Artists Master Class." This is a big claim, but one that Ballistic consistently delivers on... The "Invited Artist Gallery" sections are another example of the smart thinking that goes on at Ballistic. Not only do readers get the opportunity to see what is inspirational and exciting for the featured artists, but we also get commentary on many of these pieces. There is nothing quite like reading an accomplished creator examining the work of others.
Fred Galpern, VFX World
About The CGSociety and Ballistic Media
Ballistic Media operates two major divisions--The CGSociety and Ballistic Publishing. The CGSociety is the world's largest society of professional digital artists and provider of forums, portfolios, training, job and event services for the digital arts industry. Ballistic Publishing is the leading, independent publisher of books for the digital arts industry. Dedicated to publications of the highest quality celebrating the talents of digital artists worldwide, Ballistic has set the benchmark as a quality boutique publisher. Ballistic Media is based in Adelaide, South Australia, with offices in Melbourne (Victoria, Australia) and Tampa (Florida, USA).
"PLAYSTATION", "PS3", and "PS2" are trademarks or registered trademarks of Sony Computer entertainment Inc. Killzone® 2 © 2009 Sony Computer Entertainment Europe. Published by Sony Computer Entertainment Europe Ltd. 10 Great Marlborough Street, London, W1F 7LP. Developed by Guerrilla. Killzone is a registered trademark of Sony Computer Entertainment Europe. All rights reserved.
Media Contact
For more information, images and review copies please contact:
Daniel Wade
Publisher
Ballistic Publishing
Ph: +61 3 9790 1759 (Australia)
Ballistic Publishing
CGSociety
###