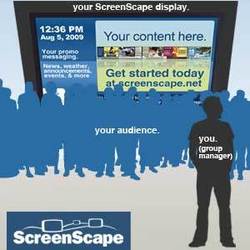 The ScreenScape Community represents a significant promotional opportunity for tourism in Prince Edward Island
(PRWEB) October 30, 2009
Tourism PEI has partnered with ScreenScape, a leader in Internet-based Venue Networking solutions, as a technology provider for a multi-faceted marketing effort says Minister of Tourism Valerie E. Docherty.
"The ScreenScape Community represents a significant promotional opportunity for tourism in Prince Edward Island" said Minister Docherty. "With ScreenScape-powered screen displays now being used in venues throughout the world, we see a fantastic opportunity to use this service in PEI. We'll also use the technology to deliver content to select venues across the Island starting with our Visitor Information Centers; with the intent to grow this initiative to include our community partners."
ScreenScape has been described by pundits as 'Web 2.0 Digital Signage' as it combines professional display authoring tools with the content sharing principles and techniques of social media. The company was founded in Charlottetown in 2007 and now has a presence in more than a dozen countries worldwide.
"Tourism PEI is always interested in implementing new technologies to enhance the tourism industry", said Minister Docherty. "ScreenScape will allow us to move to the next level in marketing and we look forward to this partnership. The added benefit is that we are investing in an innovative PEI-based company."
"We'd like to welcome the Government of Prince Edward Island to the ScreenScape Community", said Company Founder and Chief Product Officer, Mark Hemphill. "The ScreenScape platform is really a natural fit for the tourism sector. Whether it's by reaching out to partners abroad through the ScreenScape Community or by building a coordinated tourism marketing network here on the Island, ScreenScape can provide a significant boost to the Island tourism industry."
Venue Networking promises to pave the way for a range of experiential marketing activity that is both targeted and cost-effective. "Government partners can play an important role in coordinating the messaging of an entire tourism region", said Hemphill. "As a member of ScreenScape, Tourism PEI can now promote any of its many Island-wide festivals throughout the ScreenScape Community. For instance, during an event, Tourism PEI can use ScreenScape to present festival goers with coordinated messaging on screens in the venues that are participating. This can help to direct tourists to a schedule of events, to local tourism operations, as well as to any special offers."
###