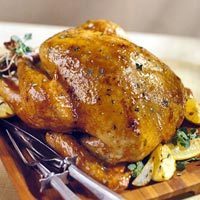 We're excited to present our first year of Thanksgiving recipes which have been contributed by the top food brands and recipe websites of celebrities and popular food media
Des Moines, IA (PRWEB) October 30, 2009
Better Homes and Gardens Network's Recipe.com, a new website launched just a few months ago, is featuring Thanksgiving recipes that will ensure a festive and colorful holiday celebration. Its recipes for Thanksgiving turkey, turkey stuffing, Thanksgiving appetizers and Thanksgiving desserts are easy to make and suitable for cooks who prefer to do it all themselves or for family and friends.
"We're excited to present our first year of Thanksgiving recipes which have been contributed by the top food brands and recipe websites of celebrities and popular food media," said Jeff Myers, Vice President/General Manager of Special Interest Media. "Our staff has tested hundreds of Thanksgiving recipes. We are confident cooks will find everything they could possibly want on Recipe.com, from traditional recipes to recipes with completely new combinations of ingredients."
Because the Thanksgiving turkey is the centerpiece of the holiday, Recipe.com has several different turkey recipes, including herb-roasted turkey, maple-brined turkey, orange-roasted turkey, and other unique ways of cooking the bird. There are also many variations for gravy--everything from Apple Herb Turkey Gravy to Cider Gravy to Herbed Pan Gravy. And as for turkey stuffing, Recipe.com includes recipes for Old-Time Stuffing, Pear Stuffing, Cranberry-Pecan Stuffing and Orange-Parsley Stuffing.
Thanksgiving appetizers always present an interesting situation--people are hungry but don't want to spoil their appetites. Chili pecans and curried cashews, two of the most popular appetizers on Recipe.com, address this quandary to perfection. These dishes are chewy and light with lots of flavor. For heartier Thanksgiving appetizers, there are recipes for Caramelized Onion and White Bean Flatbread, Chile con Queso and other robust offerings.
Many times Thanksgiving side dishes provide the most menu discussion and debate. Many hosts suggest everyone bring their favorite side dish in a certain category. Recipe.com has more than enough to choose from, including the very unusual Roasted Fall Vegetables in Cheddar Crust, Cranberry Eggnog Rolls, Maple-Ginger Sweet Potatoes, and the traditional Green Bean Casserole.
Recipe.com has dozens of tempting Thanksgiving desserts, and the website has a photo accompanying each recipe to make the dessert decision a bit easier. There are recipes for Traditional Pumpkin Pie, adult-suitable Bourbon and Chocolate Pecan Pie, White-Chocolate-Chip Spice Cookies, Apple Confit and more.
For more Thanksgiving recipes and other updates, Recipe.com invites readers to follow them on Twitter at @Recipedotcom
About Recipe.com
Recipe.com is part of The Better Homes and Gardens Network, which includes BHG.com, Better Recipes and Mixing Bowl. The Better Homes and Gardens Network is a subset of the Meredith Women's Network, which engages more than 15 million unique visitors monthly* and also includes The Parents Network (Parents.com, American Baby and Family Circle) and The Real Girls Network (Divine Caroline, FitnessMagazine.com, More and Ladies' Home Journal).

###