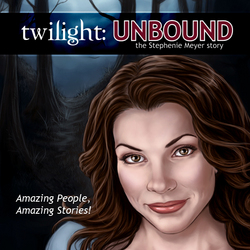 Macomb, MI (PRWEB) November 4, 2009
Eagle One Media is proud to announce the release of Twilight: Unbound – The Stephenie Meyer Story motion comic is now available through such outlets as iTunes, Nokia's Ovi Store, and Android's Marketplace; With availability coming soon to Amazon On-Demand and CinemaNow among others. This unique, unofficial biography is available as a video download or as a packaged mobile app that was developed by ZooVision that also contains a history of the real life town of Forks, Washington where the fictional Twilight stories take place.
From a dream to a string of bestsellers to a successful movie franchise, Stephenie Meyer has captured the imagination of millions around the world with her Twilight stories about a young girl and her vampire lover. Now the tables are turned as Stephenie Meyer is featured in this new unique motion comic unofficial biography! Named USA Today's "Author of the Year" in 2008, the celebrity author is responsible for ushering in a new vampire-centric fan base. From her beginnings in Connecticut and Utah, to her success and fame as today's hottest author, witness her unofficial story being told by the most famous vampire of them all! A video clip can be viewed on YouTube at http://www.youtube.com/watch?v=OeoqrmUgBF0.
The Twilight: Unbound motion comic utilizes the storyline, art, and dialog from Washington-based Bluewater Productions just released comic book and with the addition of voice-over, special effects, music, and animation, creates a fast paced video adaptation for the viewer to enjoy on various media platforms. This motion comic joins Eagle One Media's other available motion comics such as Street Fighter, based on the worldwide popular CAPCOM video game, and Voltron: Defender of the Universe, based on the popular anime television series. All of which are available on DVD or for download through iTunes, Playstation Network, and other outlets.
About Eagle One Media
Eagle One Media, Inc. (http://www.eagleonemedia.com), a multi-media company, produces animated motion comics based on well-known, globally recognized, licensed properties for the retail market. The company has recently released animated motion comics on DVD and through digital download, based on CAPCOM's video games series Street Fighter, the anime classic television series Voltron: Defender of the Universe, and blockbuster sci-fi film The Terminator. Eagle One Media's Street Fighter and Voltron motion comics were recently featured and broadcast over several weeks on the popular Syfy Channel. Eagle One Media also offers hundreds of comics from numerous publishers that are available for download from its website and releases feature length "family friendly" animation features on DVD such as Dragon Blade: The Beginning - the world's first 3D computer animated martial arts feature film from action director Stanley Tong. And Dragon Hill, the GOYA Award winning and European hit animation film from Milimetros Studios.
About Bluewater Productions
Bluewater Productions Inc. is one of the top independent production studios of comic books, young adult books and graphic novels. Bluewater publishes comic books in partnership with entertainment icon William Shatner ("TekWar Chronicles"), legendary filmmaker Ray Harryhausen ("Wrath of the Titans," "Sinbad: Rogue of Mars," "Jason and the Argonauts," et al) and celebrated actor Vincent Price ("Vincent Price Presents"). Additionally, Bluewater publishes a highly successful line of biographical comics under the titles "Female Force" and "Political Power". For more information, visit http://www.bluewaterprod.com
About Zoovision
Based in Kalamazoo, MI, ZooVision is redefining the way people use their wireless phones to access entertainment by streaming on-demand video/audio customized to the mobile experience. The company is committed to providing mobile customers with cutting-edge content of the highest quality delivered seamlessly to their mobile phones.
For additional Information Contact:
Eagle One Media, Inc.
info (at) eagleonemedia.com
###