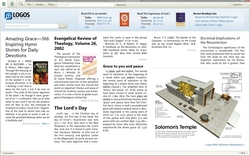 Logos 4 is a complete re-imagining of what a desktop biblical study library ought to be.
Bellingham WA (PRWEB) November 3, 2009
Logos Bible Software today announced the release of Logos 4, the newest version of the world's most popular Bible study software.
More than three years in development, Logos 4 represents the new standard in digital Bible study.
"When we sat down to design Logos 4, we knew it couldn't be just another upgrade to the previous version," said Bob Pritchett, President of Logos Bible Software. "Logos 4 is a complete re-imagining of what a desktop biblical study library ought to be."
The Logos 4 interface is streamlined, powerful, and yet easy to use, which is a great achievement for software that can manage digital libraries of more than 10,000 titles.
Some of the features in Logos 4 include:

An advanced search system that can return library-wide searches in less than 1 second.
A Smart searching that suggests synonyms and alternate terms.
Synchronization "to the cloud" for backup and to keep preferences, notes, reading plans, and your library in sync across all your computers, including PCs, Macs, and iPhones.
A smart tab and window management system for workspace customization and multi-monitor support.
The Cited By tool, which returns the books from your library that cite the material in your active window.
60 new high-resolution maps of the biblical world.
A custom-built index of all the places mentioned in the Bible.
A one-of-a-kind family tree diagram for every person mentioned in the Bible.
A database of every thing in the Bible (like altars, fig trees, or Goliath's sword), with cross references, pictures, and links to dictionary articles.
For a demonstration, pricing, and full feature list, visit http://www.logos.com/4.
About the Company
Logos Bible Software, a privately held corporation located in Bellingham, Wash., is the leading publisher of high-end, award-winning, multilingual Bible software for both the Macintosh and Windows platform. The company serves church, academic and lay markets, striving to bring the best in software innovation to Christians worldwide. Logos can be found on the web at http://www.logos.com.
###