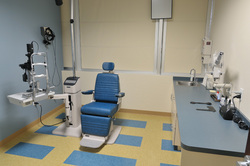 Lynbrook, NY (PRWEB) November 12, 2009
Neurological Surgery, P.C. (NSPC), the largest private neurosurgery practice in the New York City Tristate area, recently opened a brand new facility in Lake Success, Long Island, supplementing their existing six Long Island locations (Great Neck, Rockville Centre, Commack, West Islip, Hicksville, and Queens). The 11,000 square ft. facility will be home to many of NSPC's new and existing physicians, and will serve as one of the organization's administrative and executive headquarters.
This office will be NSPC's largest and has been built to function as one of the practice's flagship offices. It is furnished with a customized conference room large enough to accommodate board and staff meetings, and ample office space for their administrative and support staff.
Doctors that will be making their NSPC debut in Lake Success include epilepsy neurologist Alan B. Ettinger, M.D, neuro-opthalmologist Scott Uretsky, M.D., and neuropsychologist Gad E. Klein, Ph.D. These doctors' specialties will add to NSPC's overall expertise in the field of neurosurgery, and broaden the range of neurological services they can provide for their patients.
Dr. Uretsky is a board certified neurologist who specializes in neuro-opthalmology, a branch of neurosurgery that deals with visual problems arising from the nervous system. Neuro-ophthalmic visits are usually in-depth evaluations with extensive examinations of the visual and neurological systems. Common conditions treated by neuro-opthalmologists include optic neuritis, acute vision loss, and double vision. Dr. Uretsky utilizes the latest in diagnostic technology, including Fundus Photography and Optical Coherence Tomography. Fundus cameras photograph the back of the eye, and document the health of the optic nerve, vitreous, macula, retina, and its blood vessels. The camera itself is mounted on a microscope with custom-built lenses and mirrors. Optical Coherence Tomography is an optical signal acquisition and processing method allowing extremely high-quality, micrometer-resolution, three-dimensional images from within biological tissue to be obtained.
Dr. Klein is a neuropsychologist who focuses on the relationship between brain functioning and behavior. In addition to psychology, Dr. Klein has training in neuroanatomy and cognitive neuroscience, which he uses to assess, diagnose, and treat a variety of medical, neurological, neurodevelopmental, and psychiatric conditions that can affect cognition. Cognition can refer to different areas of brain function such as language, memory, visuospatial function, and decision making.
Dr. Ettinger is a nationally-known epilepsy specialist who has dedicated his life to helping individuals with seizures and related disorders. He will serve as Director of Epilepsy for NSPC's Epilepsy Center at Lake Success that will include neurosurgeons Brian J. Snyder, M.D. and Elizabeth Trinidad, M.D.
Neurosurgeon Brian J. Snyder, M.D. will be performing deep brain stimulation for patients with Parkinson's disease and movement disorders, seizure surgery for patients with refractory epilepsy and neurostimulation procedures for patients with refractory pain problems. Neurosurgeon Elizabeth Trinidad, M.D. specializes in pediatric neurosurgery. To support the pediatric practice, the facility includes a dedicated examining room and waiting area for children, with toys, bright colors, and supplies designed to appeal to young patients.
The Lake Success office will also be home to some of NSPC's tenured doctors in other fields of neurosurgery. Endovascular neurosurgeon Jonathan L. Brisman, M.D. will be headquartered at the new facility, as well as spine neurosurgeons Benjamin R. Cohen, M.D. and Artem Y. Vaynman, M.D., and brain tumor specialists Lee Eric Tessler, M.D., and Alan Mechanic, M.D.
For more information about Neurological Surgery, P.C., their doctors, or the conditions that they treat, please call 516-300-1281 or visit online at http://www.nspc.com.
###