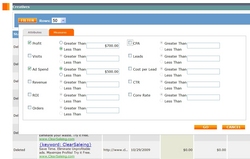 While other analytics programs can show you top rankings, ClearSaleing moves far ahead by using our attribution platform to accurately assess an ad's true performance by profit, revenue, and other appropriate metrics.
Columbus, Ohio (PRWEB) November 5, 2009
In the midst of the crucial holiday buying season, interactive agencies and online advertisers need to know which ads are the most profitable and be able to make quick adjustments to ad creatives across multiple search engines, in order to optimize conversions and profit. ClearSaleing, a technology and thought leader in attribution management and advertising analytics, today announced Release 4.4 of its attribution analytics platform, which allows marketers, for the first time, to make and schedule ad text changes across all search engines. This capability expands on ClearSaleing's capability to analyze ads by profit, cost per acquisition (CPA), cost per lead (CPL) and many other metrics.
"While other analytics programs can show you top rankings, ClearSaleing moves far ahead by using our attribution platform to accurately assess an ad's true performance by profit, revenue, and other appropriate metrics. And, since immediate action is so critical during a peak buying season, we enable the marketer to create and push ad changes out to all the search engines right from ClearSaleing's platform," says ClearSaleing Chief Innovation Officer and co-founder, Adam Goldberg.
For example, if a marketer or agency finds that a "15% discount" pay-per-click (PPC) ad is not pulling in profitable traffic, using ClearSaleing's Release 4.4, they can make a universal switch across all search engines, rapidly changing and testing alternative ad text.
"What's tremendously helpful is that the marketer or agency does not have to log on to each search engine to make these changes. They just have to log on to ClearSaleing and push these changes out to all the search engines," adds Goldberg. "By using the many filters we provide, marketers or agencies can now manage their pay-per-click campaigns toward profit, and with our attribution technology, correctly attribute profit credit to each and every ad and creative variation."
ClearSaleing has also added enhancements to its Advertising Logic Builder in Release 4.4 so marketers can create bidding rules that include first page estimated bid and keyword quality score metrics.
Creative Management
During the holiday season, marketers or their agencies are faced with managing and revising a staggering number of ads. ClearSaleing's Release 4.4 makes that complex process easier and more efficient. By allowing the agency or marketer to rapidly and efficiently test alternative ad text and determine the most profitable option, ClearSaleing provides its advertiser and agency customers with a huge strategic advantage over their competitors. With the new Release, marketers or their agencies can upload seasonal ads according to their planned schedule and ClearSaleing's technology will push the ads out according to schedule. For scheduling and ad changes, ClearSaleing enables marketers to export files to Excel for ultimate flexibility. Marketers can also copy creatives to any other campaign or ad group, from one search engine to another.
Social Media Monitoring
In Release 4.4, ClearSaleing now incorporates social media tracking into its attribution analytics platform. Marketers can track over 3,000 social media sites, applying ClearSaleing's profit attribution modeling to see whether or not social media traffic is contributing to conversions and profit.
"We know that marketers have a need for sharper insights into the influence of social media on buying behavior. ClearSaleing now shows where a customer visits a social media site along our purchase path. If a brand creates a fan page on Facebook, ClearSaleing shows the value of the traffic from that social media site and how customers are interacting with it, and their other advertising," explains Luke Tuttle, ClearSaleing's Chief Information Officer.
"ClearSaleing customers now have the combined firepower of attribution management to determine the true profit generated from each ad, efficient management of ads and bids across all search engines, and a means of capturing the impact of the growing number of social media sites," says Tuttle.
About ClearSaleing
ClearSaleing has been recognized by Forrester Research, Inc. as an Interactive Attribution "Leader" in an independent report: "The Forrester Wave™: Interactive Attribution, Q4 2009" (October 2009). Also named "Technology Platform Search Marketers Can't Live Without" at the SES Awards, ClearSaleing's advertising portfolio management platform helps marketers identify ways to more effectively and profitably allocate ad spend across a complex mix of online advertising investments.
ClearSaleing is a thought leader in the growing scientific field of attribution management and publishes http://www.AttributionManagement.com that provides a rich repository of ClearSaleing and externally published articles, white papers and other material focused exclusively on attribution management.
ClearSaleing's unique ability to give marketers telescopic insight into their online ad investment is attracting major brand customers such as American Greetings and Nationwide Insurance. The company was founded in 2006 and is headquartered in Columbus, Ohio. For more information, please visit http://www.ClearSaleing.com.
# # #