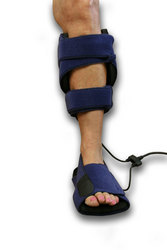 "We would like to offer more to the diabetic community than pain relief" Craig Turtzo, CEO
Tampa, Fla. (PRWEB) November 6, 2009
Anodyne Therapy LLC, the leading innovator in infrared light therapy products announces the launch of their newest product, the Anodyne® Freedom 300--designed to allow patients to affordably and effectively treat foot and leg pain in the comfort of their own homes. Utilizing cutting edge technology, the intuitive design of the Anodyne® Freedom 300 allows patients to quickly and correctly apply it for maximum results. In addition, Anodyne Therapy also has also announced that it will donate the 100% of the proceeds from the sales of this new product on November 16th (World Diabetes Day, is Saturday the 14th) to two international charities supporting people with diabetes: Woundcare Haiti and the IDF's Life for a Child.
The Anodyne® Freedom 300, affordably priced at under $600, is particularly effective for patients whose pain is associated with impaired circulation since it is able to temporarily increase circulation to the feet and legs by more than 100%. This system also features an auto-shut off safety feature. "We are ecstatic about our customers' acceptance of our Anodyne® Freedom 300 and their exceptionally positive comments about ease of use and pain reduction", said Craig Turtzo, CEO of Anodyne Therapy. "It is so uplifting to hear how we are improving people's lives by providing meaningful pain reduction to those who have suffered from long-term pain", he added.
Mr. Turtzo stated, "People with diabetes represent a large portion of our patient base for Anodyne® home units as well as the patients seen in the more than 6,000 healthcare facilities that administer professional Anodyne® Therapy treatments. We would like to offer more to the diabetic community than pain relief. Therefore, we are joining thousands of other supporters of Diabetes Awareness Month and of World Diabetes Day to enhance diabetic awareness and education to reduce diabetic foot complications across the globe."
The International Diabetes Federation (IDF), in its statement issued in October 2009, reported that the number of people with diabetes continues to grow rapidly throughout the world with more than 440 million people estimated to be affected within the next 20 years. During their most recent meeting in Montreal, the IDF stressed prevention of complications associated with diabetes prior to their manifestation.
Recipients of Anodyne Therapy's donation will be two non-profit organizations, a start up NPO, "Wound Care Haiti" and the IDF's "Life for a Child Program". The mission of "Wound Care Haiti" is to establish a limb amputation prevention program in Haiti, by providing preventative foot care, supplies and education to the country's diabetic population. Anodyne Therapy has additionally pledged the donation of 2 Anodyne® Therapy Professional Systems to aid Wound Care Haiti in their efforts. The IDF's "Life for a Child Program" supports children with diabetes globally by providing appropriate medical supplies and education.
Note to Editors: Anodyne Therapy, LLC was formed in 2001 and is a privately held company based in Tampa, Florida. Anodyne Therapy is committed to improving the quality of life of patients through the use of its drug-free and topically applied medical devices. 13 Published Peer Reviewed Studies document the efficacy of Anodyne® Therapy Professional Systems, and over 6,000 healthcare facilities provide professional treatments to patients. For more information about Anodyne Therapy LLC and its technology, the Anodyne® Therapy Systems, and the Anodyne® Freedom 300, call 800-521-6664 or visit http://www.anodynetherapy.com. For more information about the charities "Wound Care Haiti" and "Life for a Child" visit: http://www.woundcarehaiti.org and http://www.lifeforachild.idf.org/ respectively. For more information about World Diabetes Day visit: http://www.worlddiabetesday.org/.
###