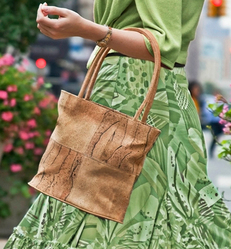 The beauty of cork goes beyond its sophisticated looks
Sonoma, CA (PRWEB) November 9, 2009
CORX.com launches today with a brand new line of luxury fashion hand bags and backpacks that are unique and truly distinctive. Cork has found a new use that has nothing to do with wine.
"The company's tag line is 'Beyond Leather' and this cork fabric really is. It's also completely eco-friendly which appeals more and more to people today," says CORX owner, Brandon Chase. "The beauty of cork goes beyond its sophisticated looks. Cork does not retain moisture, meaning it's waterproof, and the nature of cork does not allow it to harbor bacteria. Cork is being used in other markets such as furniture upholstery and automotive interiors, not to mention the traditional cork flooring. Cork has been used for thousands of years and is making a resurgence due to the public's heightened awareness to conserve and use the worlds resources wisely."
Just like the cork used in wine corks, the raw material comes from cork oak forests in Portugal where it is shaved off the bark of the tree, leaving the tree intact and able to renew the cork after 10-12 years. The cork is then cut into thin strips which are joined together to make a leather-like cloth. "The result is a beautiful, soft, lightweight and durable fabric that's incredibly easy to keep clean," says Chase.
The web site currently showcases 14 handmade bags, including purses, shoulder bags, a wallet and cosmetic bag to start, with more on the way. Brandon says, "I believe as the public becomes more aware of cork and its advantages, more people will start using this wonderful material in many aspects of their lives. We are all familiar with corkboards or cork floats used in the fishing industry, but today's cork is way beyond yesterday's cork. "
To celebrate the launch of his web site, Brandon is holding a drawing to give web site visitors a chance to win a cork leather cosmetic bag. Please see http://www.corx.com for details.
# # #