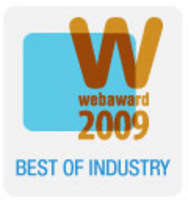 2009 WebAward Winner for Best Airline Website Award
Roseville, CA (PRWEB) November 8, 2009
Blast Advanced Media, an award-winning website optimization and online marketing agency, was recently awarded a WebAward from The Web Marketing Association's 2009 WebAwards, a competition created to honor quality and excellence in Web development.
The WebAward Competition is the premier award recognition program for Web developers and marketers worldwide. Now in its 13th year, the WebAward Competition names the best websites in 96 industries while setting the standard of excellence for all website development. Entries submitted from around the world were judged on design, innovation, content, technology, interactivity, copywriting and ease of use.
Blast Advanced Media received the Best of Industry WebAward For Outstanding Achievement in Web Development in the "Best Airline Website" category for strategic design and development on NatureAir.com, a site for the Eco-Friendly Costa Rica Airline. Only one Best Website Award is given for each industry to the entry that receives the highest score in a given category. Blast Advanced Media is honored to be so highly recognized by the Web Marketing Association.
Nature Air engaged Blast Advanced Media to improve online revenues, search engine visibility and to increase website conversion. The goal of the website is to get people to book flights on NatureAir.com. Blast Advanced Media used website usability testing and optimization tactics and improved search engine optimization to reverse decreasing online sales. Since the optimization of their website, Nature Air's online revenues are up more than 70% over their best year ever, despite the travel recession. Read the case study.
About The Web Marketing Association:
The Web Marketing Association was founded in 1997 to help set a high standard for Internet marketing and development of the best websites on the World Wide Web. Staffed by volunteers, this organization is made up of Internet marketing, online advertising, PR, and top website design professionals who share an interest in improving the quality of online advertising, internet marketing, and website promotion.
About Blast Advanced Media:
Founded in 1999, Blast Advanced Media is a website optimization and online marketing agency based in Roseville, near Sacramento, California. Blast Advanced Media is a Google Analytics Authorized Consultant, Google Website Optimizer Authorized Consultant, Google Website Optimizer Technology Partner, and Google AdWords Qualified Company that specializes in website testing (A/B Testing & Multivariate Testing), usability testing, and search engine optimization for ecommerce and B2B lead generation websites.
For information regarding Blast Advanced Media, please visit BlastAM.com or call 916-724-6701.
Google, Google Analytics, Google AdWords and Google Website Optimizer are trademarks of Google, Inc.
# # #