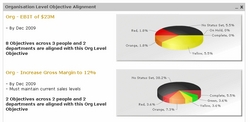 "When we analysed the data we found a large disparity between the responses from different levels of management."
Sydney, NSW (PRWEB) November 12, 2009
The Performance Management Institute of Australia has issued a warning for business leaders. The warning is based on new research conducted in collaboration with Associate Professor Alan Nankervis from Royal Melbourne Institute of Technology and Professor Pauline Stanton from Victoria University in Melbourne. The research was conducted by anonymous survey and targeted middle and senior managers. PMIA President Lyle Potgieter warns "If you want to manage your people for peak performance, get them clear on their personal contribution to the business strategy." The research suggests that middle and line managers are the least engaged with performance management systems and the execution of the strategy. "Most research on performance management is directed towards executives and managers but survey responses are often completed by members of the HR team." suggested Nankervis. He continued "We have gathered a significant sample of responses from all levels of management, from supervisors right up to business owners, as well as HR professionals. When we analysed the data we found a large disparity between the responses from different levels of management." Key results were uncovered when participants were asked :
"How effectively is your performance management system linked to the following organisational outcomes ?"
For those who believe there are effective links for the quality of goods or services, executives made up 61% of respondents and HR professionals 20% while middle managers made up 12% of respondents and, surprisingly, line managers only 7%. "In isolation, the results looked suspicious but the survey asked the same question across a total of eight dimensions and the pattern was repeated over and over." stated Potgieter. For example, when asked about organisational costs, executives accounted for 54% of the positive responses and the HR profession 21%. "Our results indicate that only 15% of middle managers and 10% of line managers believe that their performance management system can help them with managing their own costs. This is a wake up call for many executives and business owners still struggling with the fallout from the Global Financial Crisis.
The PMIA research reveals similarly low results for the linkage of the performance management system to market share. Middle managers and line managers comprised only 12% and 13% of the positive responses, respectively. In addition, they comprised only 12% and 15% respectively for managing return on investment and 13% apiece for managing profitability. "If such a low proportion of managers believe their performance management system can deliver on more market share, lower costs and ROI, exactly where are they getting their own performance measures ?" asks Peter Vlant, corporate sponsor of the research and Chief Operating Officer of PeopleStreme Human Capital.
"Small wonder that many of the most talented managers are so disaffected with their employment that they are looking elsewhere for work." suggested Professor Stanton. The PMIA responses were accumulated in 2007, before the GFC impacted Australia. After the GFC took hold, the level of disaffection amongst managers was reflected in a 2008 survey from the United Kingdom's CIPD, entitled "Recruitment, retention and turnover". The results suggest the most talented managers in UK organisations are unhappy with the way the GFC has been handled by their leaders. So unhappy, in fact, that they are actively looking for new employment or will do so when they feel the opportunity arises. The report indicates a decrease in the number of employers experiencing retention difficulties, from 80% in 2007 to 69% in 2008. It appears the GFC is biting and causing many employees to hold on tightly to their existing jobs, yet talented managers exhibit the opposite behaviour and are more actively looking for new work. We believe the research suggests that managers were already unhappy during 2007 and that by 2008 many of those who had been impacted by the GFC were actively looking for better opportunities elsewhere.
During November 2009, The Australian Federal Government published it's study comparing Australia's international competitiveness in management performance, entitled "Management Matters in Australia: Just how productive are we ?". Australia ranked sixth overall but did not rate a leader in any one of the areas measured. Of particular interest was Australia's worst score, for "Instilling a talent mindset", which points to relatively poor people management practices in this country. The study concluded that a part of the solution was a greater focus on "improved management capability and skills."
The PMIA's Performance Management Executive Overview concludes that "More than half of executives believe that a performance management system will drive strategic and operational outcomes". However, executives appear to be alone in their belief, comprising perhaps ten or twenty people out of thousands in the management team and general workforce. Supporting evidence from our research indicates that only 10.8% of department heads have themselves received formal training on their performance management system. There is a corresponding void in the development of the management team. A lack of training and capability in aligning performance objectives with the strategy, coupled with a possible desire to deflect blame, may be causing executives to ignore or avoid learning opportunities in the deployment of performance management systems. The PMIA believes this is a powerful source of failure for newly deployed performance management systems.
Other possible root causes for middle management disaffection may include the predominance of annual appraisal systems. These are often labelled as performance management systems but do not support any process of strategy alignment, goal setting, personal or management accountability. Middle managers are of particular interest. We propose that middle managers are receiving pressure from both above and below them in their organisation. The negativity implied in the research may mean middle managers are being berated by their own managers, who can't understand why business unit results aren't being achieved. Simultaneously, their subordinates are complaining that they don't understand what they need to do in order to achieve a positive appraisal, or that they don't have any clear direction for their work effort. This upward and downward pressure may be a primary cause for middle managers to believe that there are poor links to their performance management system, when it comes to achieving the organisational goals. Further funding and research is needed to help clarify these root causes.
At an organisation level, most employee appraisal systems are focussed on complying with a process few people understand and a process which materially fails to reinforce positive behaviours or employee and business unit (team) achievements. In his recent book, US academic and author, Dr Aubrey Daniels, uses the metaphor of "Rewarding Things a Dead Man Can Do" to describe the way that employee and management goals are often created. For example, if we want zero defects in our product, we may as well get a dead man to do it because that is the only way to guarantee zero defects. It is this type of miscommunication which passes for performance management but has it's roots in appraisal systems. Few have considered the desired goals and behaviours of employees and managers, nor how they link to the desired organisation goals of the business. The linkages are poor or at least poorly explained. This makes it very hard for executives, managers and employees to deliver on strategic themes.
The PMIA advocates performance goals based on both quantitative and quality based outcomes. For example, "Build a thousand widgets by the end of the week with less than one percent defects and reduce the injury rate by one day per month". Measures of success can then be adapted by shifting the quantitative measures but not the quality measure. In other words, constantly reduce the injury rate no matter what the output or error rate is. The key is to ensure that every executive and every manager at every level learns how to communicate strategically aligned performance objectives in an intuitive way. Dr Daniels suggests that reinforcing positive behaviours, such as requiring a continual reduction in defects in our example, is much more pragmatic and effective.
Potgieter says that using performance management to create strategic alignment is already in widespread use. He provides this example : "Consider the McDonald's employee who asks "Do you want fries with that ?". They are generating revenue by cross-selling, directly contributing to increased profitability and simultaneously improving customer satisfaction. All are strategic goals at the highest level of the organisation. Yet they are being executed at the coalface by teenagers. If it's possible to directly engage part-time teenagers in the strategic plan, why not the entire workforce ?".
An executive summary of the performance management research is available from the PMIA website.
The PMIA is a not for profit research organisation funded by Lyle Potgieter and Peter Vlant. During September 2009, Lyle Potgieter presented Performance Management, Human Capital Effectiveness and Enterprise 2.0. to Australia's NSW Police Commissioner, Andrew Scipione and his senior leadership team. The PMIA's mission is :
To promote Worlds Best Practice in Workforce Performance Management to Australian businesses, corporations, not for profit and government organisations
To fund research in worldwide best practice in Performance Management
To publish research findings in worldwide best practice in Performance Management
To provide training in order to propagate a Goal Oriented Management philosophy to all Australian Managers and Executives
Associate Professor Alan Nankervis of Royal Melbourne Institute of Technology has published two academic texts in 2009 and has research interests in Strategic human resource management International & comparative Asian HRM, Management/HRM in service/tourism industries, Performance management, Firm effectiveness, and comparative Asian management.
Professor Pauline Stanton is an active researcher and has researched and consulted extensively on the application of Strategic Human Resource Management systems, practices and performance in Australian and Asian industries and organisations. Professor Stanton is the Head of School of Management and Information Systems and has over eighty peer reviewed publications including the British Journal of Industrial Relations, International Journal of Human Resource Management, and the Human Resource Management Journal.
PeopleStreme Human Capital specialises in all facets of Human Capital Management software and consulting services. The company features Fortune 500, Government and SMB clients, was founded in 2002, develops and owns all it's own software and is based in Melbourne, Australia.
Note : In the English speaking world outside the US, "organisation" is usually spelt with an "s", rather than a "z"
###