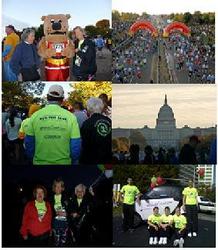 Rosslyn, VA (PRWEB) November 12, 2009
2009 10K Run for Recovery, Run for the Children walking team; Sis Wenger, President/CEO of NACoA, Patricia Taylor, President/CEO Faces & Voices of Recovery, Charles and Candace Curie, Elizabeth McMeekin, Gene Dunbar, Sue Kovalsky, Judy Cavelli, Judy Galloway, and volunteer and race route cheerleaders Dannie Greenberg, Jackie Endicott, Gail Jordan, Mandy Smith, Jean Walker, Lauri Reishus, Jean Walker, and Holly Merbaum joined the "people's marathon" event with great enthusiasm and a purpose. Both NACoA and Faces & Voices are working to broaden public understanding of how addiction and recovery affect children, families and our communities. They are promoting effective public policy at the national, state, and local levels; advancing professional knowledge; educating the public that prevention and recovery support services can and do work; and demonstrating the promise and reality of recovery.
For the race participants, friends and families, vendors and civil servants alike, the day began before daylight. The metro opened early to allow the best possible commute to the race route. The Run for Recovery, Run for the Children team joined the ranks of Marathon Charity Partners runners and volunteers, a local non-profit organization that helps charities raise funds to promote their causes by coordinating runs in the area and offering exceptional training and support for team participants, at their charity tent in Rosslyn, VA. The morning gathering gave participants a strong sense of camaraderie and courage to calm race day jitters with our coffee, bagels and bananas. At the start, the weather was perfect, cool and exhilarating and developed into a beautiful sunny day allowing us to admire the accomplishments of so many!
Also joining our team to support our cause was the staff of our Diamond Level sponsors – eRehabCoach from Montreal, Quebec, listed from left to right in photo: François Dulac, Anne Castaigne, Mylène Lemieux, Sara Laverty-Lavoie, Emily Laverty-Lavoie, and Andre Laurin, President of eRehabCoach (not pictured). eRehabCoach is a daily lifestyle-management toolbox for recovering addicts that is available 24/7, 365 days a year, and one that has delivered real-world success to recovering addicts in over 23 countries.
http://www.eRehabCoach.com http://www.youtube.com/erehabc0ach#p/u/1/gjF1hMz0xIM
Run for Recovery, Run for the Children's other sponsors include:
Run For Jane and Counselor Magazine.
Thanks to all who made it possible to continue NACoA's work to eliminate the adverse impact of alcohol and drug use on children and families and to broaden public understanding of how addiction and recovery affect children, families and our communities.
To make a donation or secure a charity bib on TEAM NACoA for the Walt Disney World Marathon Weekend, January 7- 10, 2010, go to http://www.nacoa.org/pdfs/DISNEY%20WORLD-1.pdf for participation details and donation opportunities.
###