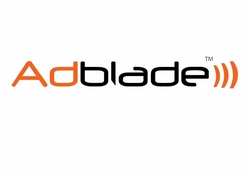 "With problems like fraud and inconsistent impression quality plaguing other networks, our goal at Adblade has been to create an online advertising network from the ground up focused exclusively on highly trafficked premium local and national branded publ
Somerville, NJ (PRWEB) November 13, 2009
Adblade, the web's largest premium-only online and technology provider, today announced its online reach has surpassed 150 million monthly unique U.S. users. This rapid growth is fueled by industry-leading ROI for advertisers and improved revenue for publishers.
Adblade reaches these users by partnering with over 1000 premium branded local and national websites, as confirmed through online analytics providers such as Quantcast who place Adblade's reach at over 150 million monthly unique users.
By focusing exclusively on premium publishers and using unique ad formats and placements, Adblade provides both a refuge for click fraud weary advertisers and the partner of choice for many premium publishers,
Most of the top 20 ad networks partner primarily with long tail publishers, distributing ad code to hundreds or even thousands of independent websites. While this is a highly efficient model, these smaller sites are precisely the inventory plagued with impression and click fraud, significantly reducing advertiser return on investment.
A recent study by Radar Research found that more than 50% of ad impressions and 95% of clicks on typical online ad network buys were fraudulent. Brand-name publishers that allow their impressions to be grouped with those of lower quality sites risk harming the value of their ad inventory. The impressions from the lower quality sites dilute overall ad campaign performance, resulting in reduced bids from advertisers.
"With problems like fraud and inconsistent impression quality plaguing other networks, our goal at Adblade has been to create an online advertising network from the ground up focused exclusively on highly trafficked premium local and national branded publishers", said Ash Nashed CEO of Adblade. "Adblade is the only place today where advertisers can reach the vast majority of US users with one buy, without exposure to problematic inventory."
Adblade's portfolio of premium-only sites provides brand advertisers and direct marketers greater reach into target audience segments through one media buy across multiple quality publishers. Adblade helps advertisers extend their reach with contextual, lifestyle and behavioral targeting as well as by providing the insight and acumen of seasoned professionals that have years of online advertising experience.
About Adblade
Adblade has quickly become a leader in online display advertising by offering advertisers and publishers unique features and technology that improve the economics of online advertising for everyone. Adblade represents much of the advertising seen on premium branded local and national websites. Adblade now serves its unique ad units, as well as standard display units, to over 150 million monthly unique users in the US, making Adblade the largest premium-only ad platform on the Web. More information is available at http://www.adblade.com .
###