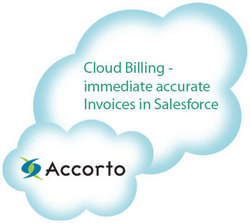 With Accorto Cloud Billing you can create Invoices directly from Salesforce Opportunities.
Redwood City, CA (PRWEB) November 16, 2009
Accorto, an internationally recognized leader in agile model-driven business applications, today announced the release of Accorto Cloud Billing.
"With Cloud Billing you can create Invoice directly from Salesforce Opportunities." The invoice can be based on the Salesforce quantity and revenue schedule of the opportunity (video). Custom fields are copied from the opportunity to the invoice.
You can also create invoices for Time & Expense reports. Billing rates are defined on Resource level with optional specific rates for Customers, Contracts or Projects. Resources allow you to have different billing rates for the same person (video).
Cloud billing supports Sales Tax, Canadian Tax as well as VAT. Flexible Payment terms allow relative (e.g. 10 days with 2% discount 30 days net) and fixed dates like next Friday, the first or 10th next month with rounding of the discount or due date to Monday or Friday if the date is on a weekend. The payment term text template allows you to have full control of content and wording of the payment term which appears on the invoice.
Document types allows users to have different document numbering or sequences, e.g. for wholesale or international sales. Gapless document sequences are supported as well. Document types also provide the ability to create quotes and proposals and convert them to invoices at a later time.
You can automatically send invoices per email and include a "Play Now" button using PayPal or Goggle Checkout.
Cloud Billing is the base for extensive Revenue Recognition support to be released later this year.
Pricing and Availability
Accorto Cloud Billing is available as part of the Cloud Plus suite which includes Time & Expense management. Pricing begins at $899 annually for 10 users and includes up to 3 hours initial implementation consulting.
Accorto on Dreamforce
Accorto's Salesforce certified consultants are available during Dreamforce 09 to help with Billing, Revenue Recognition, Timesheets and Expense Reports as well as Resource Scheduling in Salesforce. To schedule your free consultation, contact Accorto via the web or call (650) 227-3271 now.
About Accorto
Founded in 1999 and headquartered in Redwood City, Calif., Accorto is an internationally recognized leader in agile model-driven business applications. Previous products include Compiere, the premier Open Source ERP solution.
The company's latest offering, Accorto Cloud Billing is built on Salesforce for increased productivity and customer satisfaction. It's designed for organizations to increase invoicing speed and accuracy. Accorto's subscription SaaS solutions enable companies to manage projects, resources and financials more efficiently, resulting in lower operational costs and increased profitability.
###