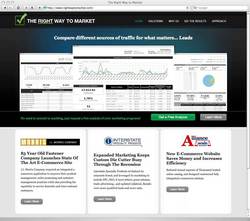 "There is almost no marketing effort that can't be tracked through analytics. Online advertising such as links from PPC, or purchased links from third party websites like Thomasnet and GlobalSpec, e-mail campaigns, direct mail campaigns, trade show events
Newton, MA (PRWEB) November 17, 2009
Grant Marketing of Boston and Pixelgroove of New York collaborate to help B2B companies better evaluate their online advertising efforts through metric based marketing. Grant and Pixelgroove have found that many companies still struggle with understanding where they are getting the best return on their marketing dollars. The two companies have set up reporting mechanisms that help B2B companies make better marketing decisions. Websites are the cornerstone of today's marketing, and with the addition of analytic tools to measure traffic, conversions, and sales, marketers cannot only determine if their online advertising and marketing is working, but they can make informed marketing decisions that prevent them from wasting money on advertising and marketing that does not produce results. Grant and Pixelgroove outline their approach in a new website at http://www.rightwaytomarket.com.
Grant Marketing President, Bob Grant says, "There is almost no marketing effort that can't be tracked through analytics. Online advertising such as links from PPC, or purchased links from third party websites like Thomasnet and GlobalSpec, e-mail campaigns, direct mail campaigns, trade show events, and trade publication advertising can all be measured through your company website."
Grant and Pixelgroove's approach considers metrics for quantity of traffic, quality of traffic, cost and awareness. The most important metrics are Key Performance Indicators (KPI). Reports offered on http://www.RightWayTo Market.com bring the KPI to the forefront so marketers can easily evaluate their marketing campaigns. And answers questions like: Which keywords are responsible for driving sales and leads to the site? What are the most effective referring sources to drive revenue? Which marketing campaign generates the most sales at the lowest cost?
Understanding which analytics to focus on KPI and understanding how to interpret those KPI can help businesses make improvements in their web design, improvements in their marketing and online advertising campaigns, and ultimately increase the quality of their leads.
For an example of an analytics report, customized for a specific company, go to:
http://www.rightwaytomarket.com.
About Grant Marketing
Grant Marketing, located in Newton, MA is the only Certified Brand Strategy agency in Massachusetts and one of only a handful in the country, specializing in B2B marketing communications.
About Pixelgroove
Pixelgroove of New York's design, SEO, programming, and online marketing professionals have been building great search friendly Websites and interactive experiences for a decade. As a result, Pixelgroove possesses a deep understanding of the usability, functionality, and marketability needed for a successful site.
###