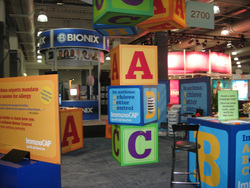 I'm proud of the work we do and I'm happy to see it recognized more and more by our industry peers.
Chicago, IL (PRWEB) November 13, 2009
Chicago-based full-service healthcare communications agency Goble & Associates, Inc., recently received recognition from advertising and marketing awards programs honoring exceptional creative and interactive work.
THE 39TH ANNUAL CREATIVITY AWARDS
Goble & Associates took home 2 Silver Awards and 3 Honorable Mentions for outstanding creative work from the Creativity Annual Awards. The Hospira VisIV "Ready. Safe. Go." sales aid and the Phadia AAP "ABC" exhibit were recognized with Silver trophies. The PreNexa "Next Generation Moms" Campaign, the INOmax "Neon Lung" Campaign, and the LifeShield "NeverLand" Ad Campaign all received Honorable Mentions.
Established in 1970, the Creativity Annual Awards is one of the longest-running independent international advertising and graphic design competitions in the world. This year, the Creativity Awards received thousands of entries from 37 countries worldwide and from 37 states in the US. The winning works are reproduced in the Creativity Awards Annual Book.
THE W3 AWARDS
The W3 Awards presented G&A with 4 Silver Awards for superior web site development. The W3 Awards bestowed Silver Awards on 3 web sites (amlactin.com, isitallergy.com, and sakura-americas.com) and the PreNexa Integrated Campaign, which included prenexa.com and a related e-mail marketing campaign.
The W3 Awards is one of 3 awards programs under the International Academy of the Visual Arts umbrella. The W3 Awards honors outstanding web sites, web marketing, and web video worldwide. Receiving nearly 3,000 entries in 2009, the W3 Awards prides itself on being the first major web competition to be accessible to the biggest agencies, the smallest firms, and everyone in between.
"This is the first year that we submitted work to these two particular awards shows," noted an enthusiastic Dave Raube, EVP, Creative Director. "We've been taking a look at the various industry awards programs out there to find the right avenues to get our great work noticed. These particular shows recognize outstanding creative and are a good fit for our agency. I'm proud of the work we do and I'm happy to see it recognized more and more by our industry peers."
About Goble & Associates
Founded in 1982, Goble & Associates is an independent, full-service communications agency specializing in healthcare—providing expertise and support across the entire media spectrum. Clients of Goble & Associates represent virtually every sector of the healthcare industry.
The agency employs about 70 senior-level professionals with expertise in account management, creative and interactive services, and strategic planning. Clients of Goble & Associates include pharmaceutical manufacturers, OTC and nutritional supplement marketers, as well as diagnostic product suppliers.
For more information, visit http://www.goble-assoc.com.
###