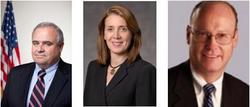 The theme for the Wharton Finance Conference 2009 is "Looking Forward: Finance in a New Horizon".
Philadelphia, PA (PRWEB) November 15, 2009
Mr. DeSeve currently serves as Special Advisor to President Obama for American Recovery and Reinvestment Act implementation. He reports directly to Vice President Joseph Biden as an Assistant and acts as a Senior Adviser to the Director of the Office of Management and Budget, Peter Orszag.
Mr. DeSeve has also held senior posts at all three levels of American government. At the federal level he was:

Chief Financial Officer of the U.S. Department of Housing and Urban Development
Controller of Executive Office of the President Office of Management and Budget (OMB)
Deputy Director for Management at OMB
The theme for this year's Wharton Finance Conference is "Looking Forward: Finance in a New Horizon". The conference will host seven panel discussions, namely:
Corporate Social Responsibility vs. Government Regulation
The Increased Competitiveness of Services Firms
International Opportunities
Infrastructure Finance
Financing Growth
Financial Innovation in the 21st Century: Sales & Trading Perspective
Careers in Finance: Recruiting in a Tough Economic Environment
Other Keynote Speakers at the Wharton Finance Conference include:
Ruth Porat (Wharton MBA Alumnus)
Global Head, Financial Institutions Group, Vice Chairman, Investment Banking Division
Morgan Stanley
Co-Head, Global Securities, Managing Director, Investment Banking Division
Credit Suisse
Mr. Andrew Ross Sorkin from New York Times is moderating a panel. Participants will have the opportunity to buy signed copies of his new book "Too Big To Fail" – The inside story of how Wall Street and Washington fought to save the financial system.
Other scheduled conference participants include:
Andrew Ross Sorkin, Chief Mergers and Acquisitions Reporter and Columnist, The New York Times
Greg Kennedy, Managing Director, Global Financial Institutions Group, Credit Suisse
Joshua Rosenbaum, Executive Director, Valuation, Leveraged Buyouts, and Mergers & Acquisitions, UBS Investment Bank
Steve J. McLaughlin, Founder and Managing Partner, FT Partners
Timothy Papp, Vice President, Cowen & Co.
Jim Wolfe, Managing Director, RBC Capital Markets
Janet Holmes, Vice President-Senior Credit Officer, Regulatory Affairs, Moody's Investors Service
William W. Lang, Senior Vice President and Chief Examinations Officer, Federal Reserve Bank of Philadelphia
James R. Tanenbaum, Partner, Chair of Global Capital Markets practice, Morrison & Foerster
John Arpino, Chief Risk Officer, Guggenheim Advisors, LLC
T. Jeffrey Barany, Managing Director, Fixed Income Division, Institutional Securities Group, Morgan Stanley
Danielle Meron-Prieto, Managing Director, US Rates Sales, Barclays Capital
Nathan Romano, Managing Director, Equity, Senior Relationship Management, Credit Suisse
Bruce Phelps, Managing Director, Senior Quantitative Portfolio Analyst, Barclays Capital
Edward M. Rubin, Managing Director and Head, Cross Rates and Securitized Product Sales, Deutsche Bank
Rodolfo L. Molina, Managing Director, Head of Southern Latin America, UBS Investment Bank
Tim Lee, Portfolio Manager, The Government of Singapore Investment Corporation
Rob Collins, Managing Director and Head of Infrastructure Banking for the Americas, Greenhill & Co.
Tyler Duvall, Senior Advisor, McKinsey & Co.
Darius Lilaoonwala, Manager, International Finance Corporation, World Bank Group
Vikram Pant, Managing Director, IDFC Project Equity
Jonathan Turnbull, Head of Infrastructure Investment Banking, Citigroup
Devin O'Reilly, Principal, Bain Capital
Stephen Krupa, Founder and Managing Member, Psilos
Mike Parker, Managing Director, Jeffrey Parker & Associates
Kevin Semcken, Chairman and CEO, Able Planet Incorporated
The Wharton School of the University of Pennsylvania -- founded in 1881 as the first collegiate business school -- is recognized globally for intellectual leadership and ongoing innovation across every major discipline of business education. The most comprehensive source of business knowledge in the world, Wharton bridges research and practice through its broad engagement with the global business community. The school has more than 4,700 undergraduate, MBA, executive MBA, and doctoral students; more than 10,000 annual participants in executive education programs; and an alumni network of more than 85,000 graduates.
Further information on the conference can be found at: http://www.whartonfinanceconference.com
Members of the media are invited to attend, but pre-registration is required.
For general inquiries:
Wharton School of the University of Pennsylvania
Media inquiries:
Peter Winicov (Wharton Communications Office)
Telephone: 1-215-746-6471
Nupur Gupta (Finance Conference Co-Chair)
email: nupur (at) wharton.upenn (dot) edu
Telephone: 1-215-687-9526
###