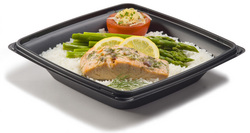 As foodservice and grocery operators work to increase sales by expanding their take-out, fresh deli, and prepared meal offerings, they require versatile and reliable food containers
Atlanta, GA (Vocus) November 16, 2009 -–
InnoWare Plastic, Inc. announces the launch of its microwavable Expressions® two-piece line of foodservice containers. The bases are made from Advanta™, a proprietary polypropylene blend that uses up to 30% less plastic than standard polypropylene—a meaningful source reduction.
Two key advantages provided by the Advanta™ blend are significantly improved rigidity and better material insulation properties compared to standard polypropylene. Improved rigidity results in requiring fewer structural ribs for strength, allowing for more contemporary and clean designs. The Advanta™ material also maintains food serving temperatures longer, especially important for take-out and catering operations. The clear polypropylene lids are vented to maintain quality and enhance the appearance of the food inside. Both bases and lids are reusable, recyclable, and carry the #5 recycle mark.
According to InnoWare's Vice President of Sales and Marketing, Tina Shearer, "The Advanta blend was developed in response to our customers' demand for high-heat containers that are durable and easily transportable. The microwavable Expressions® line in polypropylene continues our commitment to provide earth-friendly, innovative products that help operators succeed in these challenging economic conditions."
InnoWare's Expressions® line features a sleek, straight-to-the-table square plate-like design in shallow, deep, and three-compartment configurations. The mix and match lids and bases close firmly on all four corners and maintain a tight seal. The line also features secure nesting and stacking for storage, preparation, and to-go applications.
"As foodservice and grocery operators work to increase sales by expanding their take-out, fresh deli, and prepared meal offerings, they require versatile and reliable food containers" reports Hanna Sjolund, InnoWare's Marketing Manager. "These operators also strive to increase sales by using containers that appeal to consumers for their reusability and earth friendliness. To further support these efforts, InnoWare is developing its popular hinged, dual-color OctaView® containers in the Advanta™ blend."
Products made from the Advanta™ material have a black satin finish, with a temperature range of -20° F to 250° F. Rounding out the portfolio of earth-friendly containers are InnoWare's Expressions® and OctaView® lines in PETE, which are safe for cold foods and made from at least 50% post-industrial recycled material. Expressions® lids in PETE are glossy and crystal clear, and designed to fit the black, microwavable, polypropylene Advanta™ bases as well--adding to the line's versatility and consumer appeal.
In addition, both the Expressions® and OctaView® product lines are available in InnoWare's ECO brand "Return to Nature." These cold food containers are made from sustainable plant material, and are commercially compostable.
About InnoWare Plastic, Inc.
InnoWare Plastic, Inc. is a leading manufacturer of high quality foodservice and to-go packaging. InnoWare offers material options for every foodservice application including sustainable PLA (ECO), PETE, Polypropylene, and Polystyrene. InnoWare's trend setting dual-color hinged and two-piece containers can be customized and embossed. Based in Georgia, InnoWare products are manufactured in the USA.
For more information: http://www.innowareinc.com.
Contact:
Hanna Sjolund
800.237.8270
info (at) innowareinc (dot) com
###