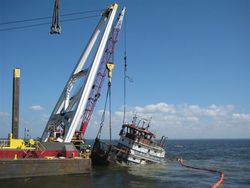 (PRWEB) November 15, 2009
Inland Salvage Inc. (ISI) recently completed the salvage of a capsized tugboat in Mobile Bay, Alabama. The 70ft tugboat was in transit light boat from dry dock in Bayou La Batre, AL to Mobile, AL to be outfitted when the vessel was struck by the Line Squall that came through the area at approximately 0300 hours on October 31, 2009.
Immediately upon being notified by the vessel's assured and underwriters that Inland Salvage Inc. had been appointed as the salvor, ISI resonded to the capsized M/V Capt Larry Barks by quickly mobilizing equipment and personnel, including the 500t D/B "Big Al" and 400t D/B "LMB" to the casualty site.
The refloating of the vessel consisted of three (3) evolutions:
1. The rotation (parbuckling) of the vessel into the vertical condition.
2. The dewatering/mud wash down of the vessel at the surface to restore buoyancy and stability and prepare the vessel for movement.
3. The movement of the vessel to the Mobile Upper harbor where it was returned to the Owners.
ISI completed all three evolutions without incident 48hrs after arrival on site.
# # #