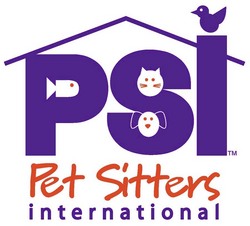 Encourage clients to make a final check of their home and yard before leaving
King, NC (Vocus) November 17, 2009
Pet Sitters International (PSI), the world's largest educational association for professional pet sitters reports that the greatest work challenge for pet sitters during the holidays is pet owners waiting until the last minute to make reservations.
PSI recently surveyed its nearly 8,000 member businesses to determine how professional pet sitters manage their businesses during the busy holiday season. More than 10 percent of the association's members participated in the survey. The majority of respondents, 68 percent, said last minute reservations were the biggest challenge. Another 42 percent cited new clients scrambling to set up accounts.
Also noted, on a much smaller scale, were incidents of poor planning of pet owners who have not left enough food or medications and the inability to contact pet owners once they've left town.
November and December are traditionally the busiest months for the pet-sitting industry as pet owners fulfill their shopping, travel and entertainment obligations.
Since professional pet sitters care for their clients' pets and homes in their absence, PSI reminds pet sitters to take these precautionary safety measures:

Make sure to ask clients if anyone will be entering their home during your pet-sitting assignment.
Encourage clients to use timers on interior lights to go on at dusk and off at bedtime as well as motion sensors on exterior lights.
Ask clients to inform trusted neighbors of their absence and use of a pet sitter.
Make sure that large displays of holiday gifts are not visible through the windows and doors.
Bring packages, mail and newspapers inside.
Make sure doors and windows are securely locked before leaving. This should include garage doors, sliding glass doors and basement doors and windows.
Ask clients about leaving a radio or television on in between visits so that the house looks and sounds occupied.
"Encourage clients to make a final check of their home and yard before leaving," advises Diane Muro of Pet Sitting by Diane in Elk Grove, CA. "This helps ensure that no hazards exist."
The PSI survey also reported that, on average, independent pet-sitting businesses begin taking holiday reservations three months in advance and stop taking reservations one week prior to the holiday.
The survey found that 32 percent of pet sitters perform between one and five pet-sitting engagements per day during the holidays and another 31 percent reported completing between five and 10 engagements. Twenty-three percent reported completing 10 to 15 engagements and 14 percent reported completing 15 or more engagements each day during the busy holiday period.
"Celebrate the holidays a week early or a week late at your own home," Linda Zubel of Reigning Cats and Dogs Pet Sitting Service in Tucson, AZ, said. "It's hard to handle one of your business's busiest times of year and try to get your own holiday festivities off without a hitch.
For more information on holiday safety or information or on how to increase your skills as a professional pet sitter please visit http://www.petsit.com.
About Pet Sitters International
Established in 1994, Pet Sitters International (PSI) is the world's largest educational association for professional pet sitters, representing nearly 8,000 independent professional pet-sitting businesses in the United States, Canada and abroad. PSI provides members with access to affordable bonding and liability insurance and educational resources including a comprehensive Accreditation Program, The Pet Sitter's WORLD magazine and PSI's annual Quest convention. PSI also publishes the The Pet Owner's WORLD magazine and thepetsitblog.com. For more information, visit PetSit.com, home of the Official Pet Sitter Locator™ or visit the PSIStoreOnline, the largest specialty retailer of products for pet sitters and pet-sitter business owners.
Contact: Courtney Klein
Phone: (336) 983-9222 ext. 318
Contact: Terry Chance
Phone (336) 983-9222 ext. 314
# # #