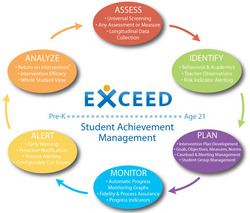 "This software is far and above any other product we have reviewed."
Towson, MD (PRWEB) November 17, 2009
Spectrum K12 School Solutions Inc, the leading provider of response to intervention (RTI), special education and student achievement management software solutions for K12 school districts, today announced a strategic partnership with Alphanumeric Systems, where Alphanumeric will be authorized to sell Spectrum K12's award winning EXCEED™ product suite in NC, SC, VA, MD, FL and GA.
"Spectrum K12 is committed to partnering with best-in-class companies such as Alphanumeric to offer state-of-the-art solutions to K12 school districts," said Jim Marshall, President and CEO of Spectrum K12. "By partnering with Alphanumeric we bring together Spectrum K12's strength in creating easy-to-use student achievement management software solutions with Alphanumeric's technology delivery expertise to offer a platform to personalize learning for all students."
"Spectrum K12's EXCEED software and deep education industry knowledge combined with Alphanumeric's three decades of technology solutions and core IT infrastructure expertise creates the ultimate partnership in providing a personalized learning experience to every student in our school districts," said Betsy Justus, VP of Sales and Marketing of Alphanumeric Systems. "We look forward to working hand-in-hand to offer the best solution to our clients."
"We are excited about the partnership we have developed with Spectrum K12 and the capabilities their software provides to the K-20 sector for managing a student's educational performance. As we look at how to be successful in early intervention and drop-out prevention, this software is far and above any other product we have reviewed," said Jay Baucom, VP of Public Sector Operations at Alphanumeric.
On Thursday, January 21st, Spectrum K12 and Alphanumeric will co-sponsor an interactive presentation and demonstration focusing on how to utilize ARRA funding to implement RTI and student achievement management solutions. The lunch seminar will be held from 11:00am-1:30pm at Alphanumeric's Headquarters in Raleigh. For more information or to register for this complimentary event, visit http://www.alphanumeric.com/january21/index.htm
About Spectrum K12 School Solutions
Spectrum K12 School Solutions Inc. is the leading provider of Response to Intervention (RTI) and special education IEP software serving 11% of the U.S. K-12 student population including 20 of the top 100 school districts in the United States. Our EXCEED™ student achievement management software gives teachers an easy way to drive day-to-day activities, research based interventions and outcomes to help all students achieve success. EXCEED monitors academic and behavioral progress, displays efficacy and fidelity, and surfaces achievement gaps at the student, class, grade, group or district level. Our patented, award-winning software has enabled personalized learning for over 5 million children in 29 states in support of our mission to close the achievement gap and Move Every Child Forward™. For more information visit http://www.spectrumK12.com.
About Alphanumeric
Alphanumeric Systems, Inc. is a world-class technology provider with core strengths in the efficient delivery of comprehensive technology solutions. Offerings include IT Professional Services with a focus on core infrastructure, virtualization and unified communications; IT Support Services, and Managed Services, including remote monitoring, on-site support and service desk. Alphanumeric, a privately-held, woman-owned enterprise, has served education, pharmaceutical, state and local government, healthcare and professional services clients for three decades. For more information visit http://www.alphanumeric.com
###