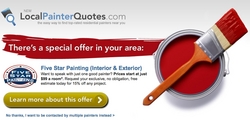 We believe that LocalPainterQuotes.com can help us expand our community presence and increase brand awareness at a very reasonable cost
Chicago, IL. (PRWEB) November 20, 2009
LocalPainterQuotes.com announces the launch of its new program specifically designed to maximize lead quality and job revenue for larger painting franchises. Unlike other lead generation sites that sell one sales lead to multiple painters, LocalPainterQuotes.com provides painting consumers with a franchise-branded quote request form that sends the leads directly to the franchise, and not to any other painters. Franchises have found this an effective Internet-based alternative to expensive phone book and media advertising. Even large franchise painting contractors that operate their own web sites recognize the value in the LocalPainterQuotes.com lead generation system. Seeing the opportunity to get involved, Five Star Painting, a painting franchisor with over 35 franchises nationwide has already signed on as an affiliate. "We believe that LocalPainterQuotes.com can help us expand our community presence and increase brand awareness at a very reasonable cost," said, Five Star CEO Scott Abbott.
LocalPainterQuotes.com also reached an agreement to provide sales leads to painting franchiser Protect Painters. "We're interested in talking to painting franchises in all areas of the country because we want to provide coast-to-coast coverage so site visitors. That way, consumers will get rapid response to their quote requests and painters can reduce their lead generation costs," says LocalPainterQuotes founder Ross Gordon.
The website generates house painting quote requests for franchises by presenting the consumer with an easy-to-understand online quote request form for a local painting franchise based on the consumer's zip code. The form gathers pertinent information about the consumer's upcoming painting project, such as interior versus exterior, ceiling versus walls, square footage, and project time frame. Then it forwards the quote specifications to directly to the franchise's call center for processing. By limiting the distribution of the lead to just one franchise, LocalPainterQuotes.com helps painting franchises maintain profitability and close more sales.
Painting franchises interested in becoming affiliates should contact Ross Gordon for more information at:
847-983-0171 or Ross [at] Tribe9Interactive [dot] Com
###